The Best Spray On Wax For An Effortless Shine And Instant Protection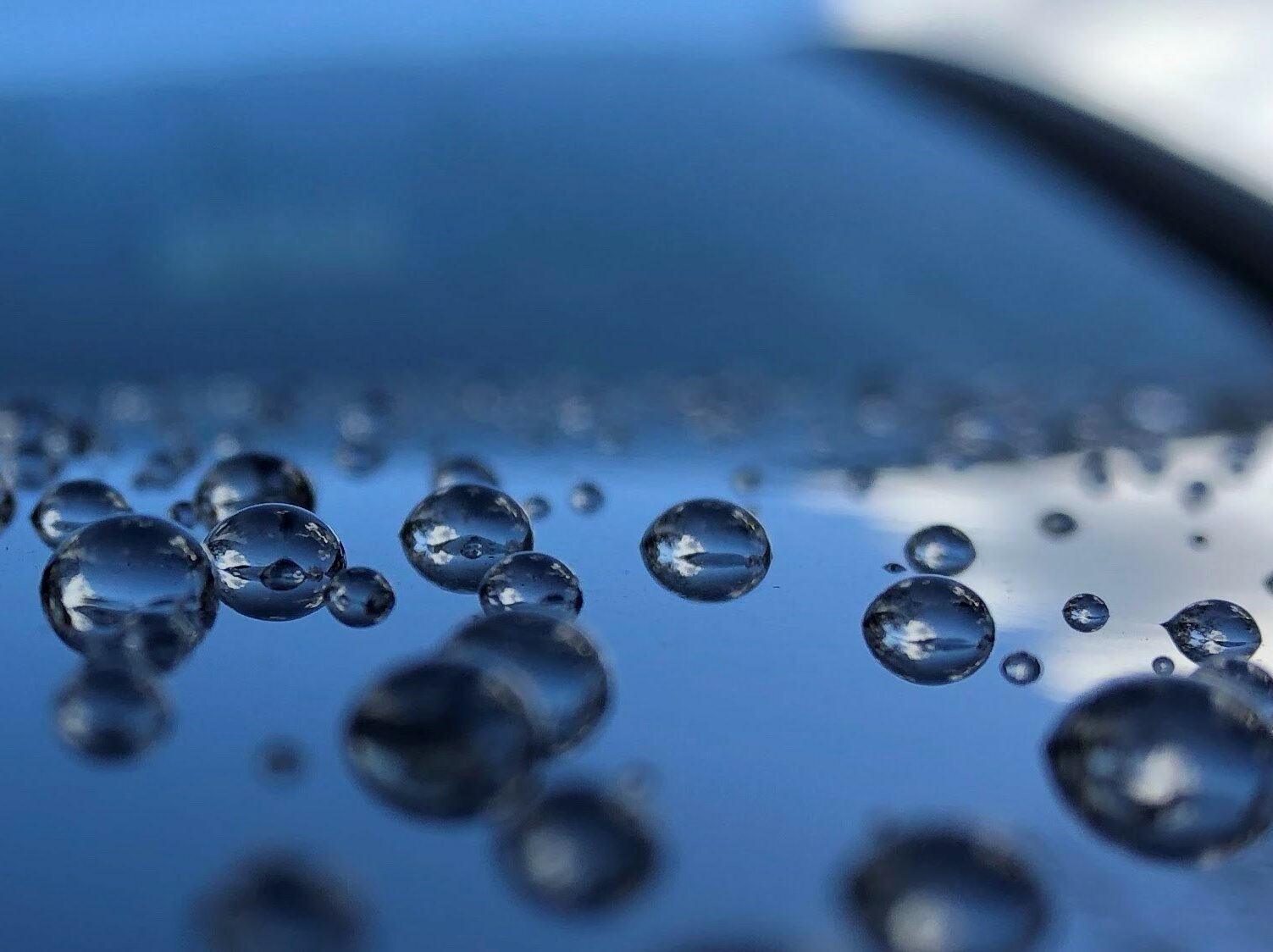 Introduction
Spray wax or 'quick detailer' has been around for some time. Still, the technology has evolved in recent years with many vehicle owners, detailers and enthusiasts switching to a liquid spray formula rather than traditional paste waxes which require labour-intensive buffing and polishing. Who doesn't want a simple spray and wipe solution that delivers excellent results?
Adding a protective layer away from direct sunlight is an excellent way of preserving your paintwork and prolonging lasting protection. If you keep up with the paint finish, you're less likely to encounter scratches, discolouration and contamination of the paintwork, therefore needing to undergo paint correction or further still, a respray.
Traditional Waxes Vs Ceramic Spray Waxes
Traditional car wax, paste and polish compounds typically come in a tub or container which requires the direct application to a microfibre cloth or polishing pad. Once worked onto the paintwork, they generally need buffing with a dry cloth to achieve the final finish.
Spray wax on the other hand is usually applied directly to the paintwork and worked over with a clean microfibre cloth. It can also be applied directly to a cloth or pad and worked in via this method.
Both product types are designed to provide various levels of protection against contamination from salt, traffic film, rainwater, snow and bird droppings for example. Quick ceramic sprays applied to exterior paint are pretty good at speeding the process up and provide excellent beading keeping moisture and chemicals off untreated paintwork.
The Difference Between Ceramic And Wax
Ceramic spray or wipe-on coatings are laboratory-created polymer-based solutions which typically use SiO2 (silicon dioxide) or Teflon which act as a slippery barrier to protect your paint.
It's designed to repel, UV, heat and chemicals by bonding to the paintwork without damaging it. Whereas natural wax such as carnauba which is extracted from plants sits on top of the paintwork to emphasise the paint colour and shine, temporarily.
The leading products now use very few (if any at all) natural ingredients as technology has evolved and surpassed traditional waxes. In essence, the purpose of these products is to seal the paintwork and new technology does this much better.
Ceramic sprays shouldn't be confused with nano ceramic coating which is a much longer, time-consuming process often carried out by professional detailers after various stages of machine polishing and correction. However, the principle is essentially the same to protect the paint for a long time.
The Best Spray Waxes On The Market (2023)
We've tried and tested many ceramic spray waxes on the market, so we've picked out some of our favourites to help you with your next purchase. Things taken into consideration are ease of application, coverage, value and most importantly the protection/finish.
CarPlan Demon Shine – Spray On Shine
This isn't strictly a ceramic wax but bear with us on this. For the price, it is extremely versatile when you simply spray on either wet or dry paintwork. It offers a good level of temporary paint protection which repels water and contaminants, effectively.
It doesn't give you water-beading qualities like the others in this list but for people who are looking for a simple, easy-to-apply product it certainly does a sufficient job of adding a layer of protection to your paint.
At around £5-£6 per 500 ml bottle, it's one of the cheapest solutions to save you time with impressive results. A quick wipe-over with a dry microfibre cloth followed by a dry buff is all that's needed to give you that gloss shine of every panel.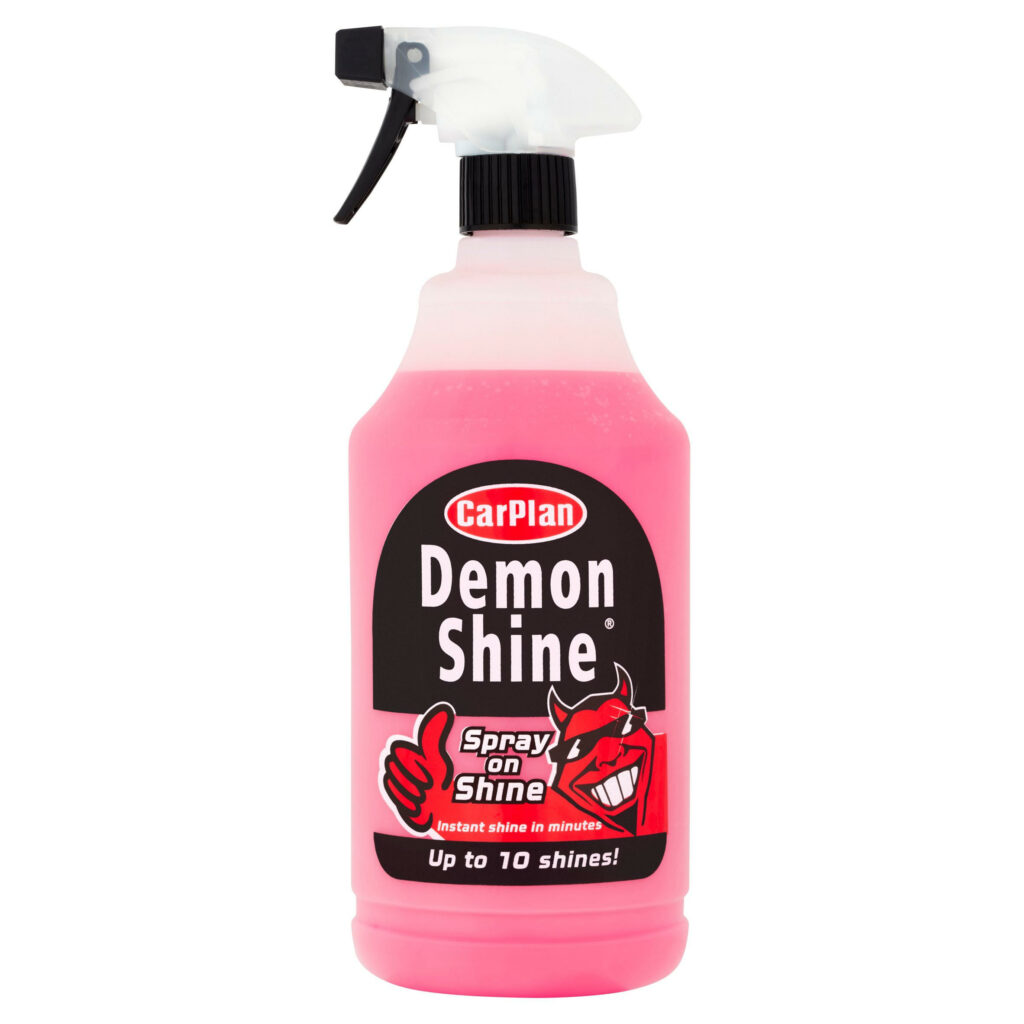 Halfords Price Guide: £5.00 – £6.00
Turtle Wax Hybrid Solutions Graphene Flex Wax
Jumping straight to the premium end of the scale, the latest technology in the detailing scene is graphene. A monolayer of carbon atoms is now used in premium detailing products such as this to build a honeycomb web of protection.
Similar to most spray wax, you can now apply it while the paintwork is wet or dry. For the best results, we recommend applying it dry and buffing it to your desired shine.
The main benefits are it is extremely long-lasting on the paintwork if cleaned and applied correctly. It can last up to 12 months whereas others may last just a few weeks.
The downside is the price compared to other products which currently retail at around £30 but you do get 680ml on the flipside.
If you are looking for the best technology in spray wax then this is the one to go for.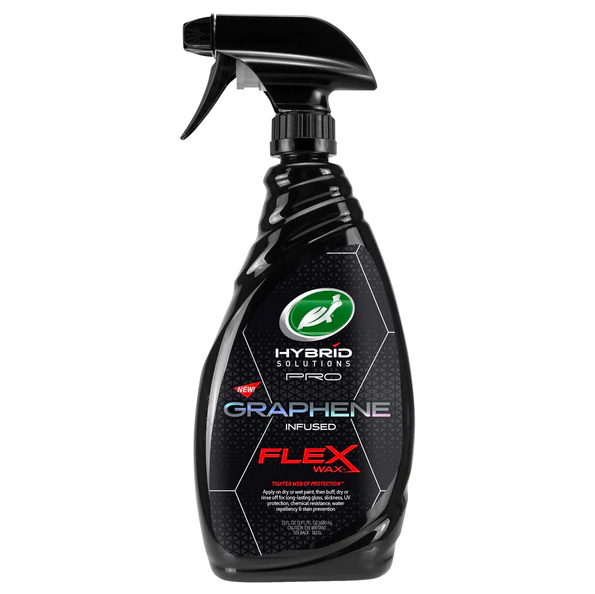 Halfords Price Guide: £30.00
Meguiar's Hybrid Ceramic Wax
No stranger to the detailing world is Meguiar's. Their latest technology contains infused SiO2 (silicon dioxide) designed for optimum hydrophobic water beading and durability.
Unlike other ceramic wax sprays, it is applied when wet after the first rinse stage. Once you've sprayed all the panels liberally, you then give it a second rinse which disperses the wax evenly over the panels.
It's as simple as that. No polishing or buffing is required. The results are pretty impressive and you should definitely give it a try for yourself.
The only advisory is to make sure you thoroughly pre-wash, clay bar (if necessary) and shampoo the paintwork properly. The cleaner the surface, the better adhesion you'll get with prolonged protection.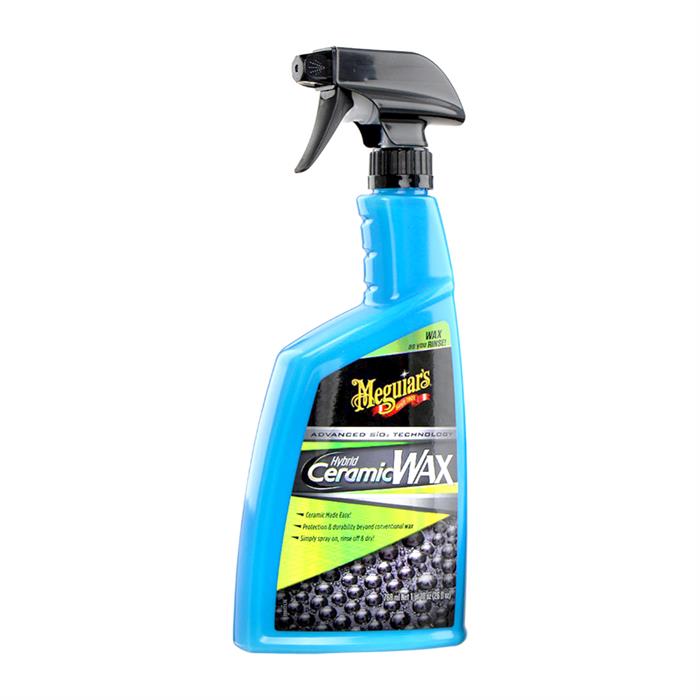 Halfords Price Guide: £23.99 – £25.00
Autoglym Rapid Ceramic Spray
Autoglym has been in the game since 1965 so they're pretty clued up when it comes to detailing and paint protection.
The rapid ceramic spray is good value and provides up to 3 months of protection when you follow the instructions. For dry vehicles, apply to a clean microfibre cloth and work over the bodywork in manageable areas at a time.
For wet application, spray directly onto the bodywork and spread across all panels (again, working on manageable areas at a time). Once the first stage has been completed using both approaches you can then use a dry microfibre cloth to achieve a gloss finish.
A second application 24 hours after may be followed if you are looking to prolong the hydrophobic beading qualities. A solid contender for your shortlisted products and one of our favourites that is readily available.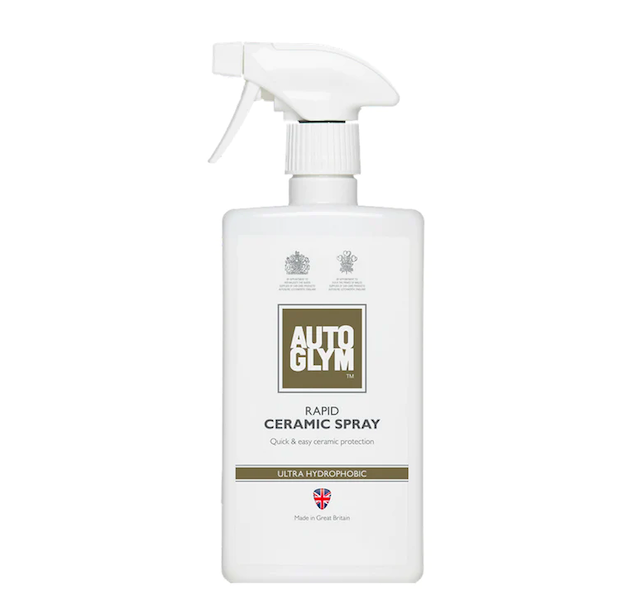 Halford Price Guide: £18.79
Mothers CMX Ceramic Spray Coating
Not as popular as some of the others on this list is Mothers CMX Ceramic Spray Coating. But that doesn't mean it shouldn't be considered as it's a very good product. It contains its own formula of both SiO2 and TiO2 (titanium dioxide) for maximum hydrophobic water beading.
It can be applied to wet or dry panels whereby you simply wipe on and wipe off. Although we found the best results following a similar method using a separate dry cloth to buff the final glass finish.
We were really impressed with how long this lasted too on our long-term tests. The product still seemed to be working after 4 months which is impressive for the price.
The only downside is the noticeable white deposits in shut lines and hard-to-reach places but they are easily wiped clear. This can be avoided if sprayed directly onto a microfibre cloth rather than directly on the paintwork.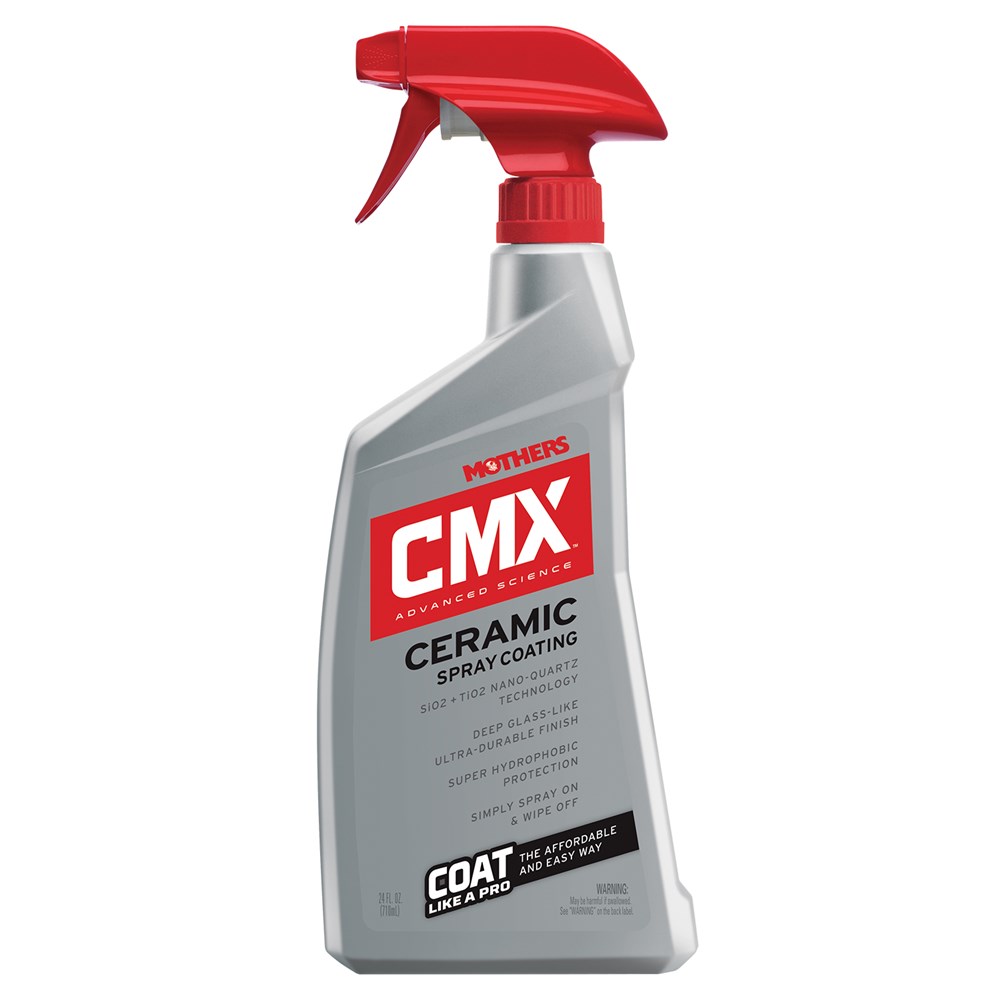 eBay Price Guide: £19.99 – £21.99
Turtle Wax Hybrid Solutions Ceramic Spray Coating
Turtle Wax has really stepped up its game in recent years undergoing an overhaul of the brand and technology. Previously seen as a cheap entry-level brand by many, their products are far from it today.
This industry-leading synthetic wax polymer technology is one of the best for boosting the gloss, shine and colour of your bodywork. Unlike some products, you can use it on all surfaces including glass and metal to maximise what they call super-hydrophobic protection.
Similar to Meguiar's and Mothers it uses SiO2 technology acting as an excellent sealant for your exterior. One of our favourite go-to products and certainly one of the best spray waxes on the market.
Simply spray onto the panel when dry, wipe over and buff clear. Must not be used when wet.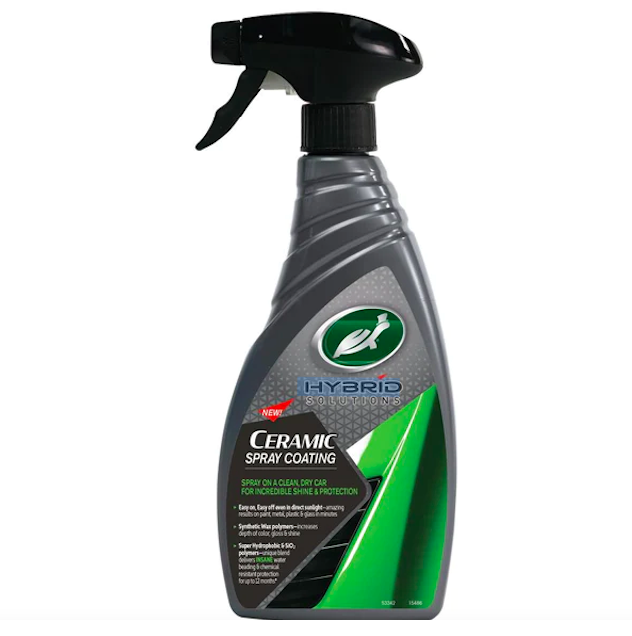 Halfords Price Guide: £15.99
Meguiar's Hybrid Ceramic Detailer
Designed to be used in between applications of the Hybrid Ceramic Wax to prolong the protection of the bodywork. However, we find it to be quick and effective in comparison to regular use (similar to CarPlan Demon Shine).
Not labelled as a ceramic wax but still quotes SiO2 technology it does a good job when you want to add a quick layer of protection after washing via traditional cloth application.
In our eyes, this is a cloth application alternative to the spray-and-rinse wax version with equally similar results (albeit not as long-lasting).
For best results apply to dry, de-contaminated bodywork and spread across the surface. If your budget allows, purchase the rinse wax version too and follow the instructions for up to 12 months of protection.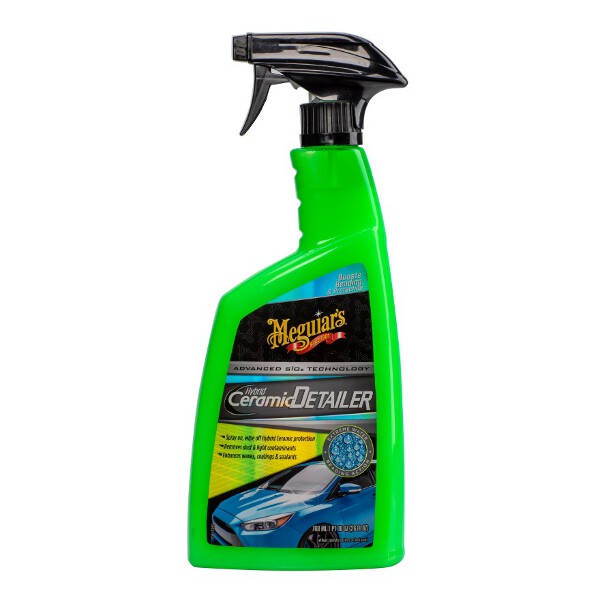 Halfords Price Guide: £21.99
Turtle Wax Hybrid Solutions Ceramic Wet Wax
The new ceramic wet wax by Turtle has been developed to compete with other brands that can be applied to wet or dry paintwork. Having two different products for dry or wet application is a bold statement.
However, its ease of application speaks volumes and the results speak for themselves as a dedicated wet product. Simply spray, wipe and buff to achieve the final finish is equally impressive as the dry product.
Personally, we would rather dry the bodywork before applying sealant, but many prefer a simpler method choosing to polish and dry at the same time. Entirely personal preference, but either way this product works and works very well.
It shares the same super-hydrophobic polymer properties for maximum protection against salt, chemicals, bird droppings and UV as the spray coating version.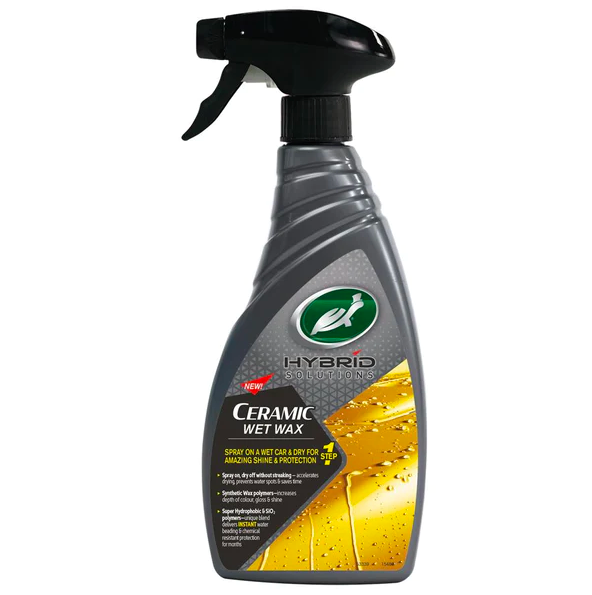 Halfords Price Guide: £16.99
Does Spray-on Wax Work?
It certainly does. Industry-leading brands are putting the majority of their development into spray wax technology.
Some of the best protection you can buy for your motorcycle or vehicle is in a spray wax product, you should try some out based on our list of recommendations above.
Are Spray Waxes As Good As Regular Wax?
Absolutely! The technology found in a spray wax is equal if not considerably better than traditional putty-type wax and is a lot easier to apply. The likes of carnauba wax are now quite outdated and simply do not stack up against modern technology.
You can, however, buy the majority of these products in liquid bottles for a more traditional cloth > bodywork application for those who prefer. eBay tends to have a good variety of deals across sprays and waxes. Take a look Here.
How Long Does Spray Wax Last On the Paint Surface?
It all depends on the preparation of the contact surface. Similar to painting, plastering or even wallpapering, you must prep the surface to maximise adhesion for the best results.
Different products have their own guide on what to expect in terms of longevity and protection. Premium products generally last up to 3 months and something like the Graphene Flex Wax can last up to 12 months.
If your paintwork has seen better days then you're more than likely going to get a lot less out of these types of products vs fresh or well-maintained paintwork.
For best results follow these steps:
Thoroughly decontaminate the paint with a degreaser or citric-type pre-wash
Jet wash thoroughly removing as much surface dirt and grime as possible
Snow foam and shampoo the full body, wheels and undersides while you're at it
Rinse thoroughly to make sure all traces of the products used prior to the next steps
Use a clay bar on all panels to lift any remaining contamination on the surface
If required, continue with full paint correction by a professional detailer
Choose your ceramic wax and follow the instructions accordingly
Admire your gleaming paintwork that's now fully protected!