The Best Tasting Proseccos You Need To Try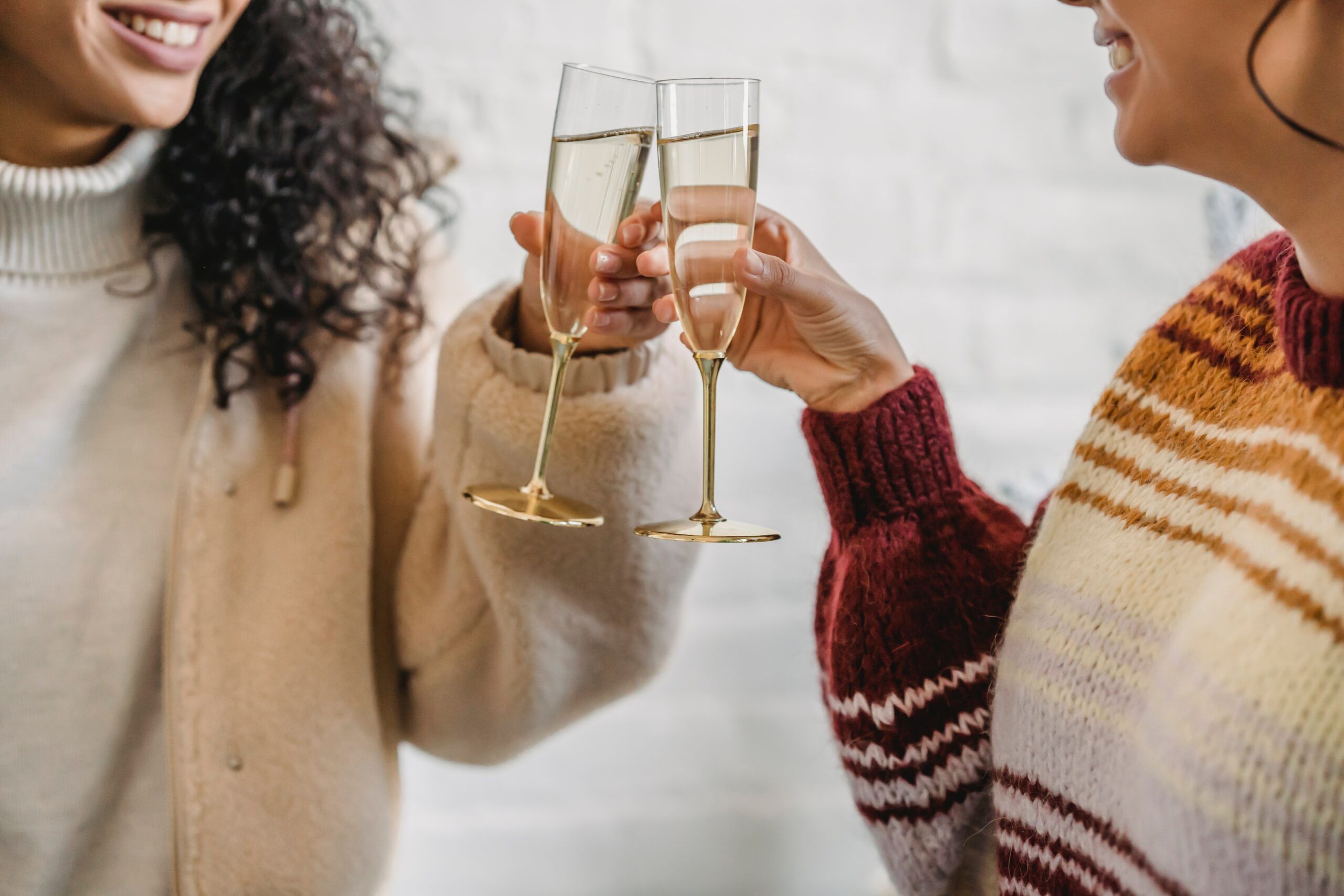 Prosecco is a sparkling wine that has taken the world by storm for many years, now but it was once frowned upon to be the cheap alternative to champagne, but that's far from it, today! This glorious Italian wine is made primarily from Glera grapes and is known for its lively bubbles, refreshing mouthfeel, and fruity flavours.
Unlike traditional champagne, prosecco is affordable, easy-drinking, and perfect for any occasion – from festive celebrations to summer parties. You are spoilt for choice with so many prosecco brands and bottles to choose from, you can easily get lost in a sea of bottles when choosing your next bottle of prosecco.
In this blog guide, we'll explore the best proseccos you can buy on a budget with maximum flavour. From classic DOCs to organic and rosé options, we're sure you'll find the perfect bottle that suits your taste and budget.
Prosecco vs. Champagne: What's The Difference?
The two most popular options are undoubtedly Prosecco and Champagne and although they have similar qualities, they differ significantly. While both types of wine share a fizzy, effervescent quality, there are several key differences between them that set them apart.
One of the most significant differences is in the grape varieties used to produce the wine. Champagne is made primarily from Chardonnay, Pinot Noir, and Pinot Meunier grapes, whereas Prosecco is made mainly from Glera grapes. While some Proseccos may include small amounts of Pinot Noir or other grapes, Glera is the dominant varietal in this sparkling wine.
Another difference between Prosecco and Champagne is in the production method. Champagne undergoes a process known as secondary fermentation in the bottle, which creates the fine bubbles and complex flavours that the wine is known for. Prosecco, on the other hand, is made using the Charmat method, in which the secondary fermentation takes place in large steel tanks before the wine is bottled. This results in a less complex flavour profile but a more affordable price point.
The taste of Prosecco and Champagne is also quite different. Champagne is typically characterised by its rich, toasty flavours and high acidity, with notes of citrus, apple, and white blossom. Prosecco, on the other hand, is known for its light, fruity taste, with flavours of green apple, crisp apple, and orchard fruit. Unlike champagne, prosecco is also typically sweeter with lower alcohol content and a refreshing mouthfeel which many people actually prefer the taste of.
Finally, there is the matter of price. Champagne is generally considered a luxury wine, with prices generally ranging from £25 to several hundred pounds and even thousands per bottle. Prosecco, on the other hand, is much more affordable, with many good prosecco bottles available for just a tenner. This makes Prosecco an excellent choice for anyone looking to enjoy a sparkling wine without breaking the bank.
Overall, both Prosecco and Champagne are excellent sparkling wines, each with its own unique characteristics and flavour profiles. Whether you prefer the rich complexity of traditional Champagne or the light, fruity taste of Prosecco, there is a sparkling wine out there for everyone.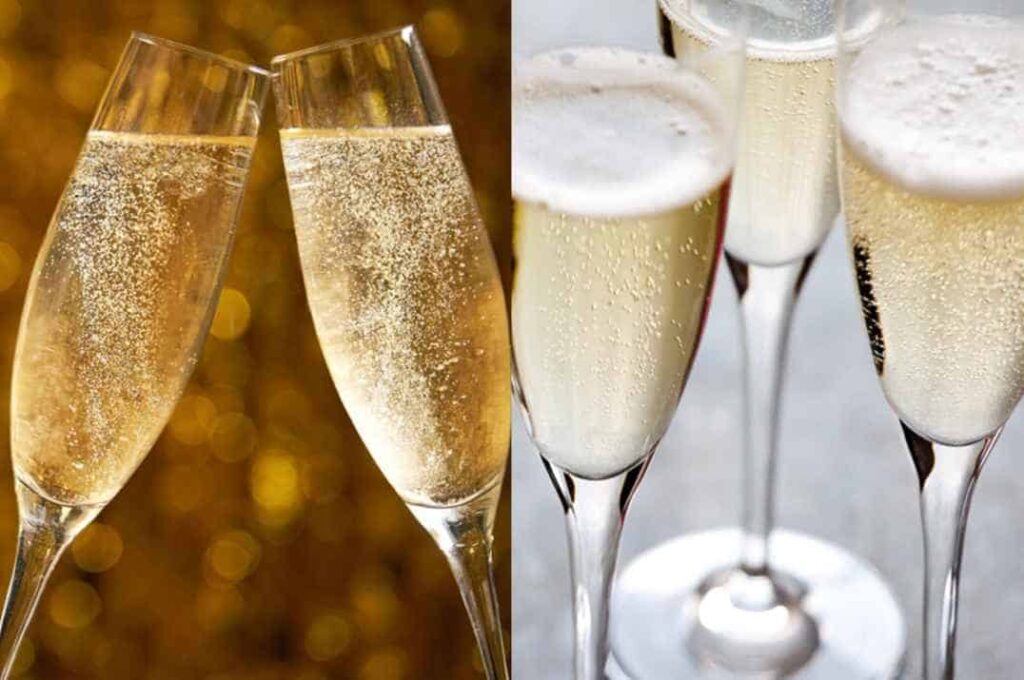 Different Types Of Prosecco
There are several different types of Prosecco available, each with its own unique characteristics and production methods. Here are some of the most common types:
Prosecco DOC
Prosecco DOC stands for "Denominazione di Origine Controllata" and is a designation of origin for Prosecco wines that are produced in a specific area of northeastern Italy, which includes the Veneto and Friuli Venezia Giulia regions. To be labelled as Prosecco DOC, the wine must be made using specific grape varieties, primarily the Glera grape, and must follow strict production regulations set out by the Prosecco DOC Consortium.
These regulations cover everything from the types of grapes used to the winemaking techniques used and are designed to ensure the quality and authenticity of the wine. Prosecco DOC wines are typically light and refreshing with crisp apple and floral notes and a fine bubble, making them a popular choice for any occasion.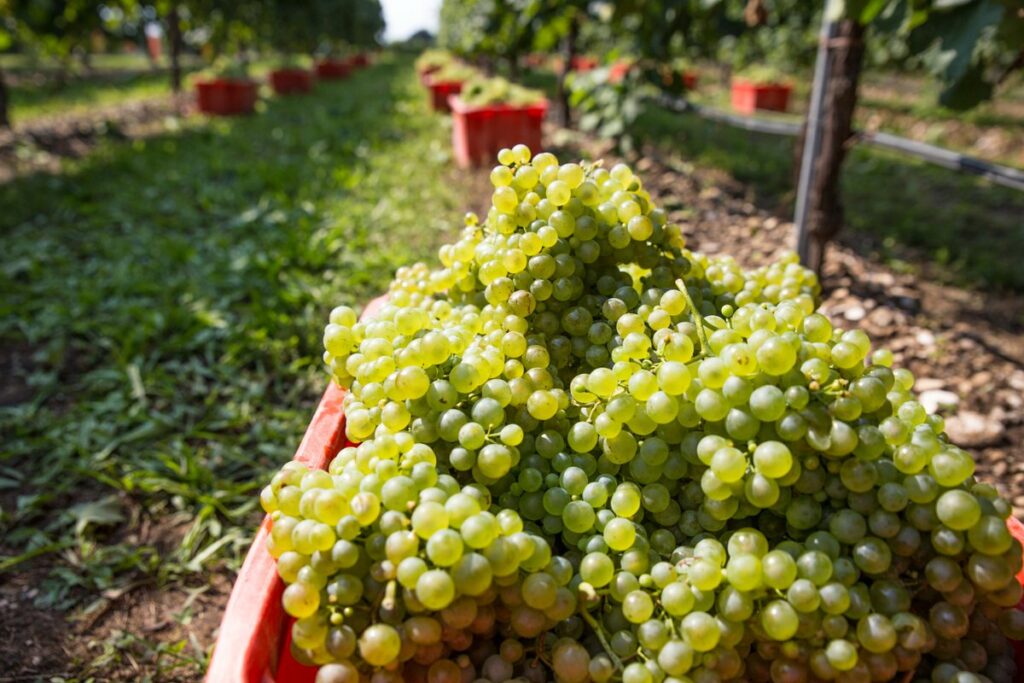 Prosecco DOCG
DOCG stands for "Denominazione di Origine Controllata e Garantita," which is a higher level of certification and represents the highest quality and prestige for Italian wines than DOC. However, both are considered high-quality wines.
Prosecco DOCG, on the other hand, has even stricter regulations and is only given to wines produced in a specific area of the Veneto region, including Conegliano Valdobbiadene and Asolo. These wines must adhere to even stricter production regulations than Prosecco DOC wines and must pass a series of rigorous taste and quality tests before they can be labelled as DOCG prosecco.
In summary, while both Prosecco DOC and DOCG are high-quality wines, DOCG represents the highest level of quality and prestige due to the stricter regulations and rigorous testing process that the wine must undergo.
Organic Prosecco
For those who are concerned about sustainability and environmental issues, organic Prosecco is an excellent choice. Made using grapes sourced from certified organic vineyards, organic Prosecco is produced without the use of synthetic pesticides, herbicides, or fertilisers.
One of the best organic Prosecco bottles on the market is Adnams Prosecco DOC, which has a pale straw colour and lively bubbles. Another excellent choice is La Gioiosa Prosecco Brut, which has delicate floral aromas and fruity flavours.
Prosecco Superiore DOCG: The Best Of The Best
Prosecco Superiore DOCG is the highest quality Prosecco, made using grapes grown in the Veneto region of Italy. This sparkling wine is known for its fine bubbles, crisp acidity, and complex flavours.
One of the best Prosecco Superiore DOCG bottles is Valdobbiadene Prosecco Superiore DOCG, which has a delicate flavour profile with notes of green apple, white blossom, and orchard fruit. Another great choice is Della Vite Prosecco, which has a refreshing mouthfeel and fruity flavours.
Prosecco Rosé
Prosecco Rosé is a relatively new addition to the Prosecco family, but it has quickly become a favourite among wine enthusiasts. Made using a blend of Glera and Pinot Noir grapes, Prosecco Rosé has a delicate pink colour and fruity flavours.
One of the best Prosecco Rosé bottles on the market is Freixenet Prosecco Rosé, which has floral notes and a crisp, refreshing finish. Another great choice is Tesco Finest Prosecco Rosé, which has fruity flavours and fine bubbles.
A Great Mixer: Aperol Spritz and More
While Prosecco is undoubtedly a popular choice for sparkling wine on its own, there are many other ways you can enjoy it. One popular cocktail made with Prosecco is the Aperol Spritz, which combines Prosecco with Aperol and soda water for a refreshing summer drink. Some people prefer to swap the soda with lemonade for a sweeter taste.
Here are some other popular drink mixers you can also make with prosecco:
Bellini: Mix peach puree and a splash of raspberry liqueur with chilled prosecco for a refreshing cocktail.
Mimosa: Combine chilled orange juice with chilled prosecco in a flute glass for a classic brunch cocktail.
French 75: Mix gin, lemon juice, and simple syrup with prosecco for a bubbly twist on a classic cocktail.
Poinsettia: Mix cranberry juice and triple sec with chilled prosecco for a festive and colourful holiday cocktail.
Kir Royale: Add a splash of crème de cassis to chilled prosecco for a simple and elegant cocktail.
Rossini: Mix strawberry puree with chilled prosecco for a fruity and refreshing cocktail.
Hugo: Mix elderflower syrup, mint leaves, and lime juice with chilled prosecco for a light and refreshing summer cocktail.
Venetian Spritz: Mix Aperol, soda water, and chilled prosecco for a slightly bitter and refreshing cocktail that's perfect for warm weather.
These are just a few examples, but the possibilities are endless when it comes to using prosecco in cocktails and mixers. Let your creativity run wild and experiment with different flavours and ingredients to find your perfect prosecco cocktail.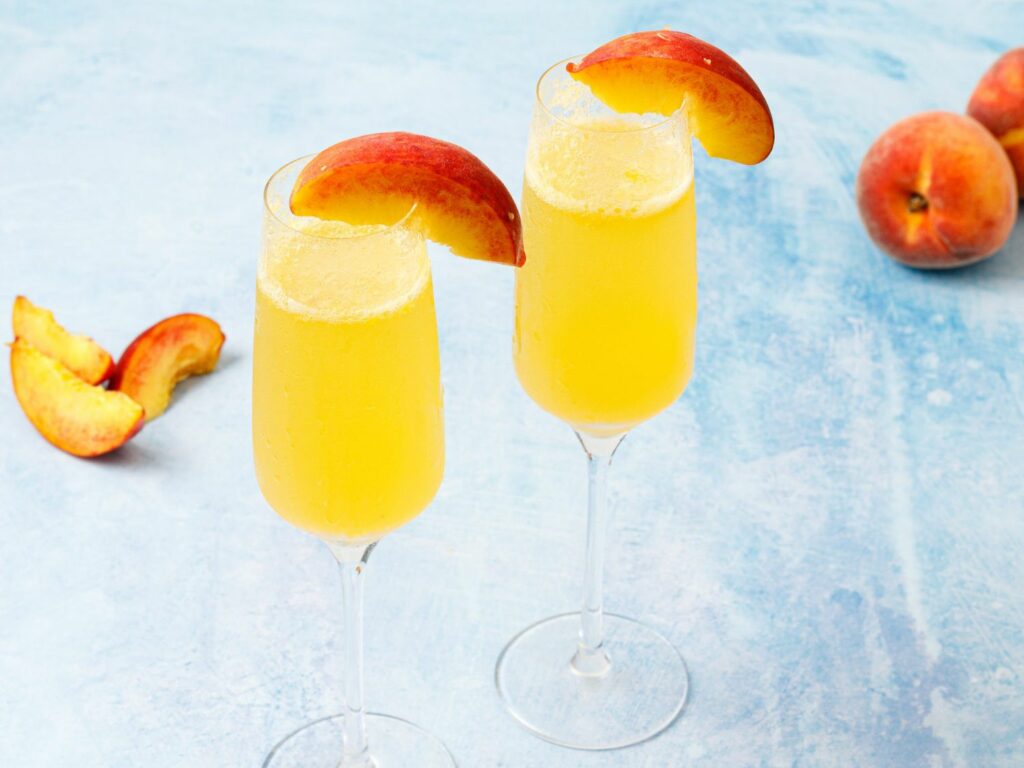 Prosecco Offers
If you're looking for a great deal on prosecco, you can't go wrong with the Tesco Finest Prosecco or the Freixenet Prosecco. Both are excellent examples of regular prosecco that won't break the bank and retail under £12 usually.
The Tesco Finest Prosecco is a fruity and floral prosecco that has won numerous awards, including gold and silver medals at the International Wine Challenge. The Freixenet Prosecco DOC is a lively and refreshing prosecco that's perfect for any occasion.
Another readily available prosecco at supermarkets and online that's sure to be a hit with the tastebuds and easy on the wallet is Canti Prosecco DOC. This iconic bottle has quickly become to go-to choice for prosecco lovers as it retails between £8.25 – £9.50 in most stores.
Lastly, make sure you try Terra Organica Prosecco which won a silver medal at The Drinks Business 2023 Prosecco Masters £10 – £15 category, recently. You can actually pick a bottle up for less than £10 though if you shop around.
Award Winning Proseccos
Here are some award-winning proseccos for the UK market:
Adnams Prosecco DOC – Gold Medal winner at the Sommelier Wine Awards and a Decanter World Wine Awards Bronze Medal winner.
Freixenet Prosecco DOC – a consistent medal winner, including a Decanter World Wine Awards Gold Medal winner.
La Gioiosa Prosecco Brut DOC Treviso – a multi-award winner, including a Gold Medal at the International Wine Challenge.
Tesco Finest Prosecco DOCG – a Silver Medal winner at the International Wine Challenge.
Della Vite Prosecco DOC – a newcomer that has already won a Silver Medal at the International Wine Challenge.
Valdo Prosecco Superiore DOCG – a consistent medal winner, including a Decanter World Wine Awards Silver Medal winner.
Sainsbury's Taste the Difference Prosecco Conegliano DOCG – a consistent medal winner, including a Decanter World Wine Awards Silver Medal winner.
Conclusion
In conclusion, prosecco is a versatile and enjoyable sparkling wine that has gained popularity around the world. Its refreshing taste, fine bubbles, and affordable price point make it a great choice for casual occasions and celebrations alike. There are many different types of prosecco available, each with its own unique flavour profile and style. From classic Prosecco DOC to the more refined Prosecco Superiore DOCG, there is a prosecco for every occasion and taste.
While some may compare prosecco to champagne, it is important to note that they are distinct in their grape varieties, production methods, and flavour profiles. Prosecco is typically lighter, fruitier, and less complex than traditional champagne. However, this does not make it any less enjoyable or high quality.
In recent years, there has been a growing interest in organic and sustainable wine production, and the same applies to prosecco. Many organic and DOCG proseccos have gained recognition and accolades from wine experts and competitions, demonstrating that eco-friendly practices can go hand-in-hand with exceptional taste.
Whether you prefer your prosecco on its own, mixed in a cocktail, or paired with food, there is no doubt that it is a wine that has captured the hearts of many. So, the next time you're looking for a bottle of bubbles to celebrate a special occasion or just to enjoy on a sunny afternoon, consider trying one of the many award-winning proseccos available in the UK market. Cheers!