The Complete Guide to Joining A Whisky Club (2023)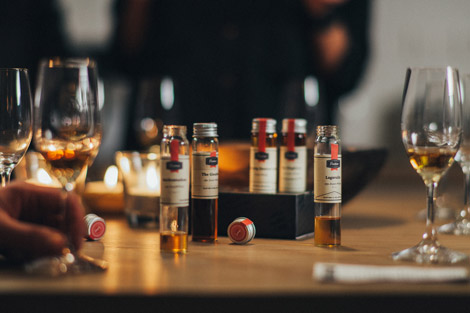 Introduction: What is a Whisky Club?
A Whisky Members Club is a club that holds monthly events, whisky tasting and dining. But fundamentally they provide monthly deliveries of selected Whisky by the experts, to your door. The objective is to introduce you to a new world of whisky in the form of subscription boxes that are tailored to your own preferences. If you're just starting out then you'll normally be sent a variety to try on your first delivery to see what you prefer.
Then, moving forward, you can customise your deliveries. This is how most clubs operate although some have a set subscription service schedule which many prefer as it eliminates the guesswork from your side. Clubs pride themselves on their attention to detail and their dedication to providing members with an exceptional experience. They are always looking for new ways to improve the club and make it more enjoyable for all members.
Why You Should Consider Joining a Whisky Members Club
The benefits of joining a whiskey club are endless. You get to create your own exclusive whisky in some clubs, explore new distilleries, and have the opportunity to taste some of the world's finest whiskies.
You can also learn about new releases, exclusive bottling, and other insider information from other members. Plus, you get to meet a group of like-minded whisky lovers like yourself! Each club has their own twist on what you'll benefit from if you sign up for their services so it's important to understand what you'll get before committing as most services are for a minimum of 12 months.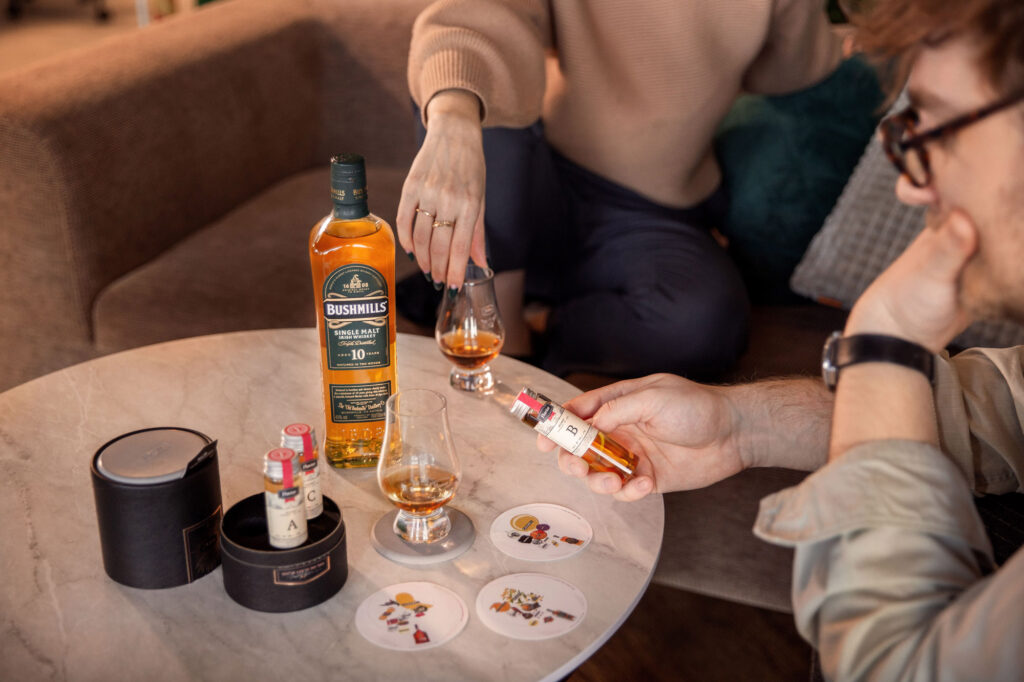 What are the Best Whisky Clubs In the UK?
The best whisky clubs in the UK are not just confined to London which is exceptionally buoyant with clubs. They can be found all over the country, and even internationally!
There are many different types of whisky clubs for you to choose from. Some will focus on a specific region or type of whisky, while others will focus on a specific time period in history.
What's your favourite type of whisky? If you have a clear answer then this may help you choose the right club for you. To get you started here are some of our affiliate partners who offer excellent membership deals and a wide variety to choose from.
The Flaviar Whisky Club – Our Top Pick
Introduction
Flaviar is a company that sells whisky products and helps people learn about the different types of rare or exclusive whisky. The company has a membership program where members can access exclusive tastings and benefit from discounts on their favourite whiskies carefully selected from across the globe.
The Flaviar Whisky Club was launched in 2013 by two friends, who share a love of whisky, with the goal of introducing people to the world of unique and rare whiskies. They have since grown into one of the largest online retailers for whisky in Europe, with over 20,000 members and counting.
What is the Flaviar Whisky Club?
Quote by Flaviar – A band of spirits enthusiasts, inspired by culture, rich history and the art of distillation. They forage the World of Spirits for the finest, rarest and most unique expressions out there and pack it all into a 21st-century Members Club. You are what you drink, diversity and quality matter and all that should most certainly be enjoyed with style and in good company.
Membership comes with the following benefits:
Monthly delivery of a bottle of whiskies chosen by the club's experts
Access to exclusive offers from distilleries and their online shops
Exclusive access to tasting events
Club Ethos
Times have changed since the dark era of 1920s Prohibition when the sale and consumption of alcoholic beverages were outlawed. There are now over 15,000 different spirits on the market and each year hundreds of craft distilleries open their doors.
While not outlawed, 99% of these drinks are just as unreachable as they were 90 years ago. Most bars and liquor stores carry only 10 to 50 bottles on average, with Jack and Johnnie always at the forefront of the show.
We believe everyone deserves a place in the spotlight. We fight for equal opportunity for producers to reach individuals like you. We, ladies and gents, lead the speakeasy movement of the modern day.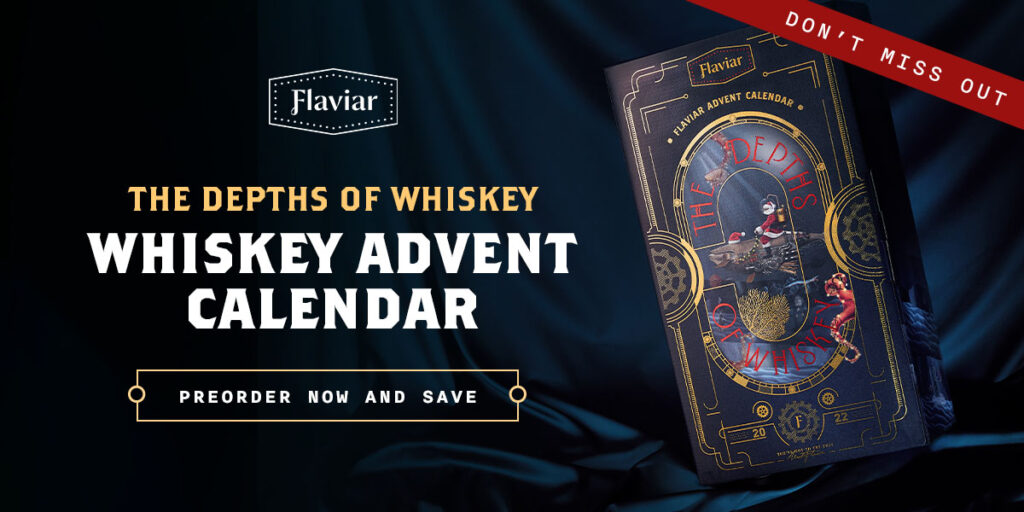 How To Become a Member
Flaviar is a club that offers members the opportunity to taste and explore all the world's most popular, rare and expensive drinks. You can sign up by visiting their website which only takes a couple of minutes, Here.
This membership provides you with the following benefits:
Access to exclusive tastings of new products before they are released on the market
Exclusive invitations for members-only events
The opportunity to build your own personalised tasting profile
10% off on all purchases from the online store
The Flaviar Spirits Experience
Flaviar also offers a multitude of other spirits as well as Whisky that can be enjoyed with the same tailored home-delivery service.
The Flaviar Spirits Experience is a monthly membership that includes a tasting kit, tasting notes, and recommendations for new products. Flaviar's tasting kits come with a bag of aromatic ingredients, two samples of the featured spirit, and notes to help pair your selections.
How Many Whisky And Spirits Are Available?
The website offers more than 500 different types of whisky, as well as spirits from all over the world such as Rum, Cognac, Tequila and more. Flaviar also has a "suggest a spirit" section where you can suggest new spirits to be added to their catalogue.
Other Leading Whisky Clubs
There are plenty of Whisky clubs to choose from if you're not sold on the Faviar experience. Here are some of the other leading clubs we highly recommend that you might like to learn more about.
The Scotch Malt Whisky Society
As a member of The Scotch Malt Whisky Society, you gain access to an extraordinary selection of single-cask whiskies, each carefully selected and bottled at cask strength. These limited-edition releases represent the pinnacle of whisky craftsmanship, showcasing the distinctive character and flavours that can only be found in a single cask. From rich and robust sherry bombs to elegant and floral expressions, SMWS offers a remarkable range of flavour profiles to satisfy every whisky enthusiast.
One of the hallmarks of SMWS membership is the opportunity to explore the Society's flavour profiles, which are represented by intriguing numbers rather than distillery names. Each whisky is given a unique code, such as "9.186" or "48.119," allowing members to discover new expressions without preconceived notions. This blind-tasting approach adds an element of surprise and excitement to the whisky journey.
But SMWS is more than just exceptional whiskies. Membership also grants you access to a vibrant and passionate community of whisky enthusiasts. Engage in spirited conversations, share tasting notes, and exchange recommendations with fellow members who share your love for the water of life
Pour & Sip – Master Of Malt
Powered by Master of Malt, Pour & Sip is an exceptional subscription service that promises whisky enthusiasts a delightful experience. Each month, subscribers are treated to a carefully curated selection of five 30ml drams of whisky, ranging from rare gems to beloved classics. What sets Pour & Sip apart is its attention to detail, providing bespoke tasting notes to accompany each dram, guiding members through their tasting journey.
Upon joining Pour & Sip, subscribers receive a welcoming package that includes two Glencairn glasses, the perfect vessels for savouring the whisky. Additionally, the service offers twice monthly live tasting sessions, which are broadcasted on popular platforms such as Twitter, YouTube, and Facebook. In case you miss a session, you have the convenience of catching up at your leisure or exploring past episodes that delve into the nuances of your favourite drams.
Pour & Sip goes beyond providing exceptional whisky; it fosters a vibrant community of whisky enthusiasts. The live tasting sessions invite members to engage in an interactive experience, with a lively comments section where participants can share their thoughts and exchange ideas. As a member, you also gain access to exclusive discounts on full bottles and have the opportunity to earn loyalty points, adding even more value to the subscription.
At just £29.95 per month, Pour & Sip offers incredible value for the discerning whisky lover. The combination of carefully selected drams, bespoke tasting notes, live tasting sessions, and a thriving community makes this subscription service a true gem for whisky connoisseurs.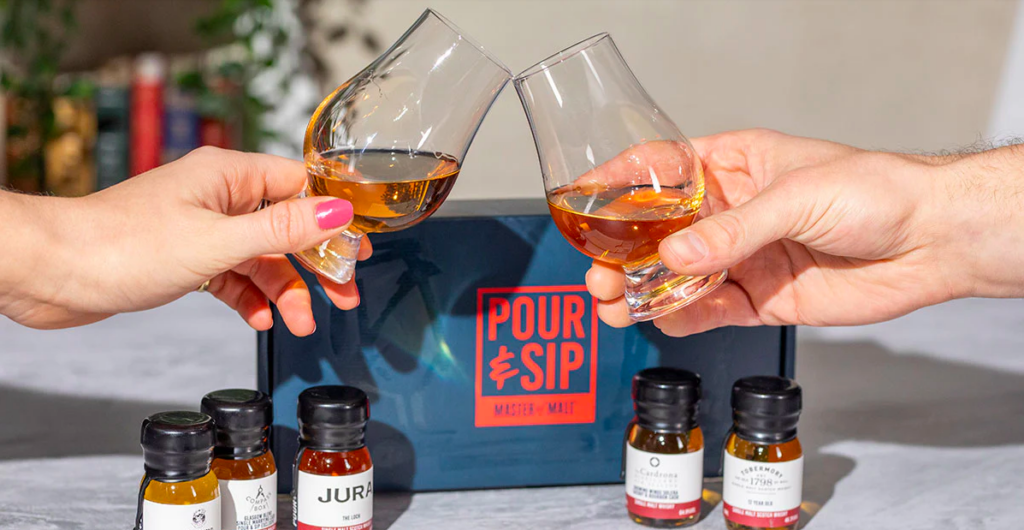 The Best Whiskies for Beginners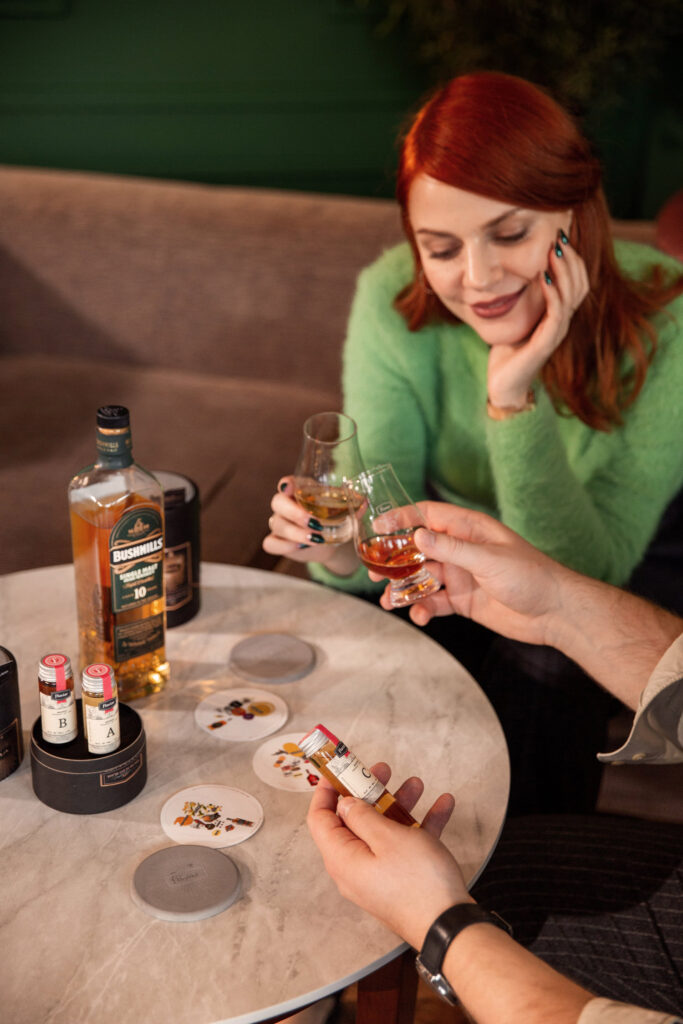 What are the Best Whiskies for Beginners?
As a beginner, it's important to understand what Whisky consists of and how it's made. Whisky is a distilled alcoholic beverage made from water and malted barley. It is one of the most popular alcoholic beverages in the world which is an acquired taste.
There are many types of whisky and it can be tough to choose which is best for beginners so there isn't a straightforward answer, unfortunately! The good news is all the clubs in this list are very popular and they'll help make that decision easier by providing you with a list of the best whiskies for beginners and selecting specific malts the experts recommend.
If you're committed to signing up to a club then you're more than likely familiar with leading brands such as Johnnie Walker, Jack Daniels and Jameson's as a basic requirement and it's recommended to try what is more readily available from local supermarkets, firstly. Whisky clubs will help develop your pallet and explore different distilleries from all over the world.
What are the Different Types of Whisky?
The word whisky is a general term for any alcoholic drink that's distilled from fermented grain mash. All whisky has to reach a 40% alcohol level before it can be bottled.
There are many types of whisky, which vary in their production methods, geographical origins and the type of grain used. Scotch whisky is made in Scotland with malted barley. Irish whiskey is made in Ireland using malted barley and rye. Bourbon whiskey is made from corn, rye or wheat and is distilled in the US.
Conclusion
Joining a whisky club in the UK opens up a world of possibilities for whisky enthusiasts. Whether you prefer the peaty delights of Scotland, the smoothness of Irish whiskies, or the elegance of Japanese drams, there is a club that suits your palate. Each of the top clubs mentioned in this article offers unique perks, including access to exclusive events, rare whiskies, and a vibrant community of fellow whisky lovers. So, embark on this exciting journey, expand your whisky collection, and deepen your appreciation for the water of life.
Drink Responsibly
Always drink responsibly. DO NOT drink and drive while using any of the retailer's products. The legal age for alcohol consumption in the UK is 18 or above. DO NOT exceed the weekly limit of 14 units recommended for adults by the Chief Medical Officers. Avoid drinking while pregnant.