The Best Screen Wash In 2023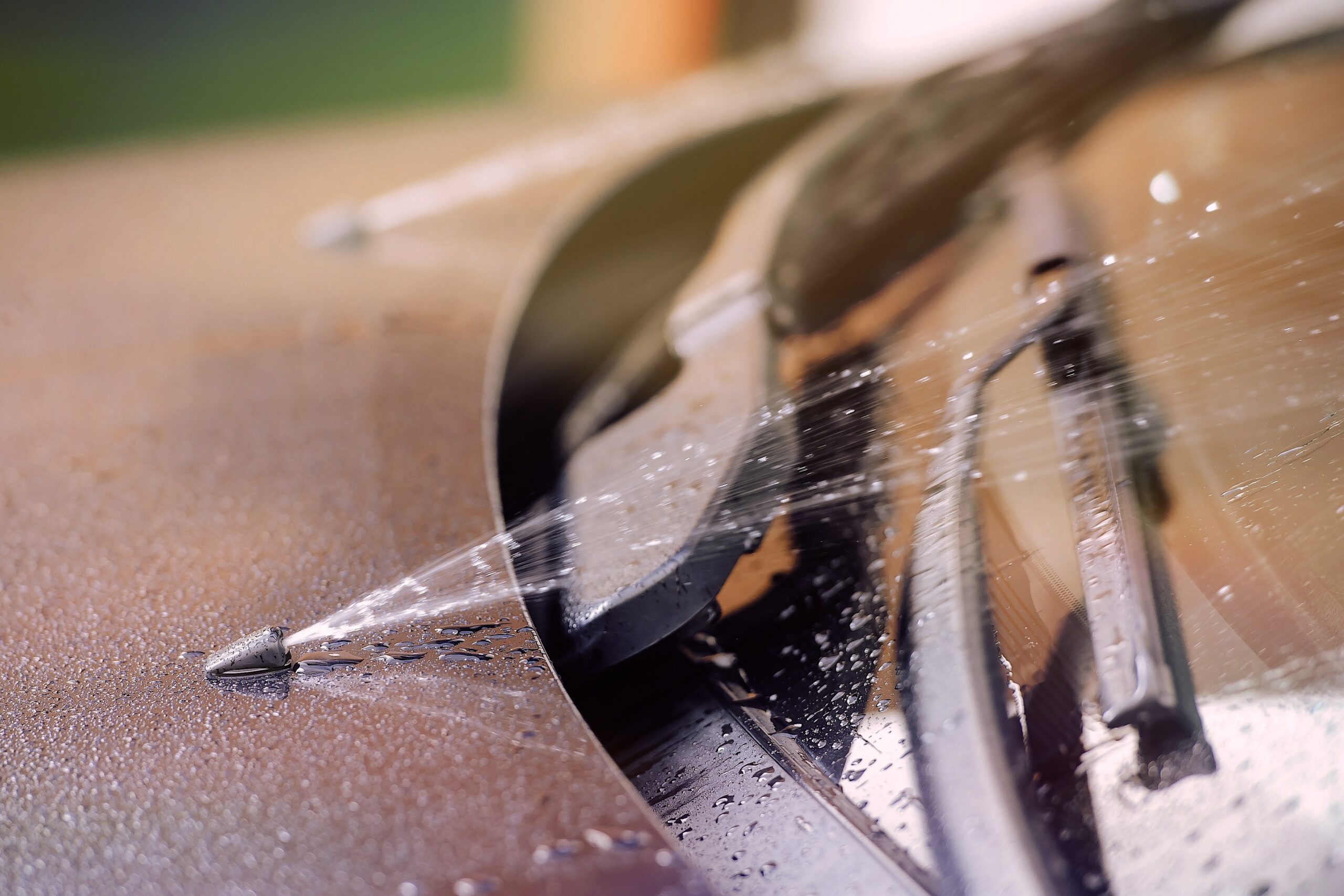 Having a reliable mix of screenwash in your washer tank is something many of us have neglected at some point in our driving careers. But for what it costs and the benefits it provides, it makes sense to keep it topped up for when you need to clear those pesky splattered bugs or when you need to clear your windscreen in winter from dirt and grime.
It's actually a legal offence to have an empty washer bottle too (although you're highly unlikely to be prosecuted) if you cause an accident to which visibility contributed then you're likely to get into trouble.
But that's enough of the lecturing as you're obviously here to see what the best options are for screenwash currently on the market in 2023 and heading into 2024. We carry out these tests to provide you with a short, yet detailed overview of what's available online and in-store so you get the best product for your budget and needs.
Evaluating the Screen Wash Options
To determine which screen wash is the best so far in 2023, we employed a comprehensive testing procedure that included cost analysis, freezing resistance, and cleaning effectiveness all year round.
Not all windscreen wash mixes are the same, although they may look similar apart from a difference in colour and size. Here's a breakdown of our evaluation criteria:
Cost Analysis And Value For Money
We started by calculating the costs of each screen wash for both winter and summer mixes. For winter usage, we considered coverage down to around -20°C and took into account the variety of available mixes.
Value is at the forefront for most of us at the moment and you want a good performing screen wash that's not ridiculously expensive as some appear to be checking various marketplaces!
Freezing Resistance Ratings
Next, we prepared the screen washes to their winter concentration and examined how long they took to freeze in a standard freezer. This test allowed us to gauge their resistance to freezing temperatures.
This is very important considering we are heading into the coldest months of the year and a frozen washer bottle causing no end of headaches such as blown fuses and burnout washer motors is something you can do without.
Cleaning Ability
We placed a challenging oily smear and a stubborn baked-on bug on the car's screen in two locations – one where a single wiper passed and another swept by two wipers. We then used the screen washes until they ran out, evaluating their performance in removing these tough marks.
To keep things fair, we used 8 different vehicles with similar-sized windscreens and replicated the oily smear and bugs as best we could across all 8. We also evaluated how well traffic film and dirt were cleared when used for a few weeks in the real world afterwards.
The Verdict – Which Is The Best?
After thorough testing, Prestone emerged as the top choice for 2023 and is likely to stay on top in 2024. It impressively combines affordability with exceptional performance. While it may require neat usage for optimal results, it excelled in the freezer, lasting a remarkable 2 hours and 30 minutes before icing over.
For reference, the freezer temperature was set to -18°C (the recommended temperature for UK freezers). Furthermore, it effectively removes oil smears, and bug grime better than any others tested securing its position as our best overall performer. It also smells pretty nice too!
Reviews
Let's delve deeper into our findings and explore some of the top-performing screen washes for 2023.
Affiliate Disclaimer: Some of these links are affiliated whereby we may earn a small commission from the retailer if you make a purchase. This doesn't affect the price you pay and by doing so helps us run our website and create new reviews.
1. Prestone Extreme Performance Screen Wash
Price: Around £4.50
Size: 2.5 litre
Rating: 5/5
Best price from: Amazon.co.uk
Prestone's Extreme Performance Screen Wash is our top recommendation for 2023/2024. It claims to melt ice down to -18°C, a claim it demonstrated in our testing by lasting an impressive 150 minutes in the freezer. While it may be pricier when used undiluted, it delivers exceptional results for not a lot of money.
Its ability to shift tough oil smears solidifies its status as the best choice for car owners seeking superior performance. To top things off, it smells quite pleasant and it doesn't cause excessive screen glare when you've just applied a couple of squirts like a lot of others do.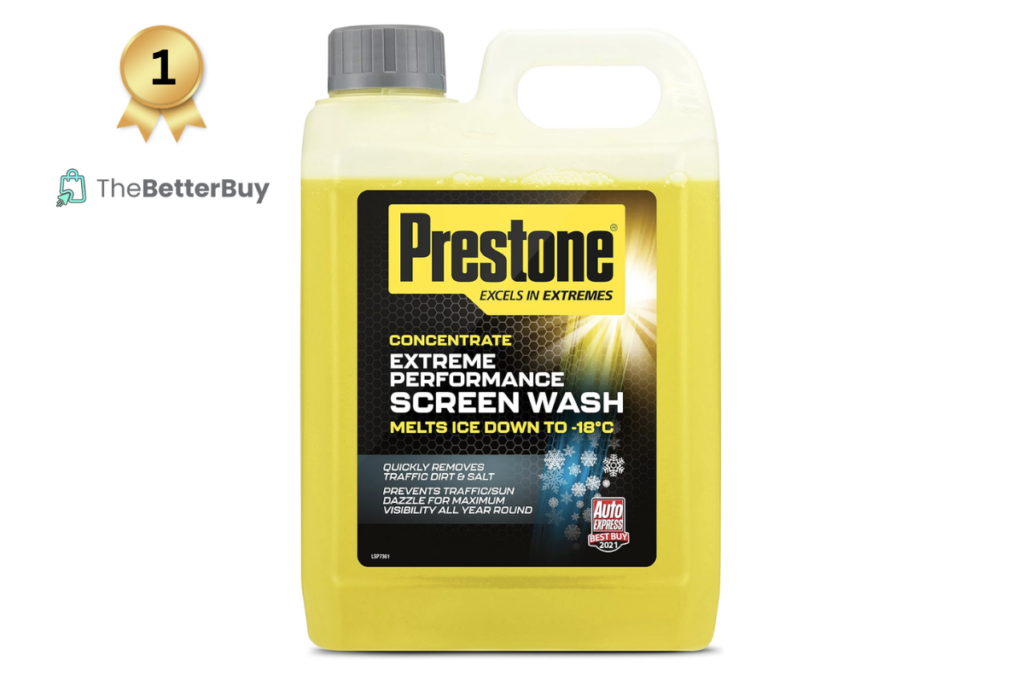 2. Car Plan Four Seasons Screenwash
Price: Around £3.50
Size: 5 litre
Rating: 4.5/5
Best price from: Therange.co.uk
Car Plan Four Seasons screen wash stands out as one of the best value vs performance pre-mixed options available. While it does struggle in the freezer test after 45 minutes, in the real world it's not going to turn to ice unless you are well into the minus figures (around -5°C or below). It excelled in the cleaning tests and clears bug splats, everyday dirt, grime and oily deposits well.
A full 5L bottle will fill most washer bottles on Audi's, BMW's, VW's and other popular manufacturers and for the money, you really can't argue with this mix. A 5L mix usually lasts around 2 months of regular use from experience and it's readily available in most leading retail outlets.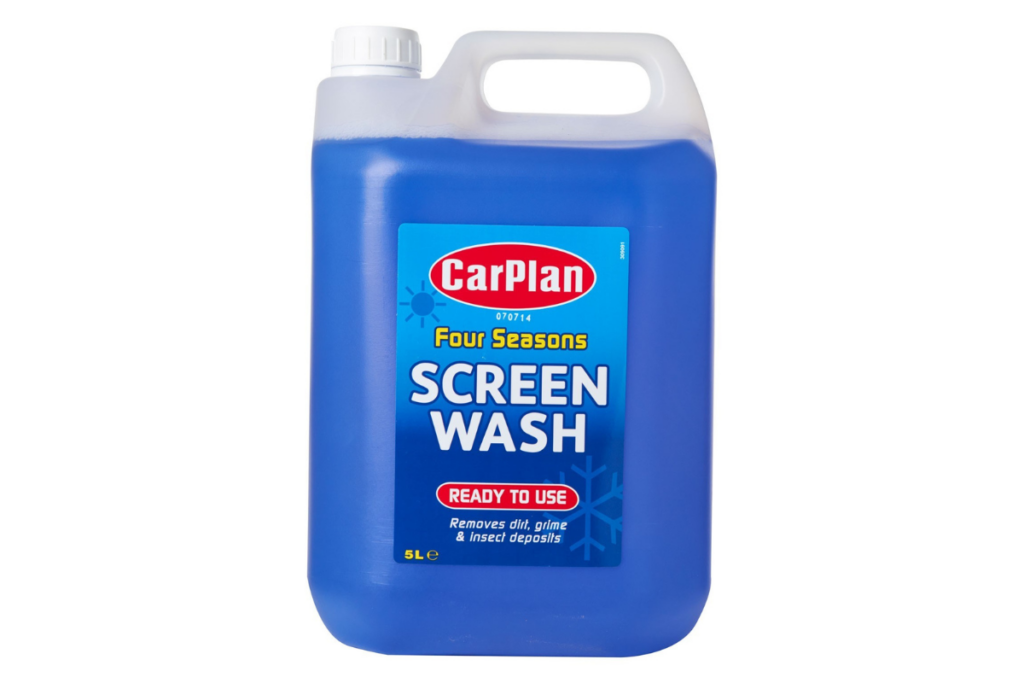 3. Autoglym Ultimate Screenwash
Price: Around £9.00
Size: 500ml
Rating: 4.5/5
Best price from: Halfords.com
Autoglym's Ultimate Screenwash is a veteran product that continues to shine. It may be on the pricier side for winter usage, but it performed exceptionally well on the screen. Its effectiveness in handling bugs and oil spots makes it a strong contender. It handles freezing resistance very well in its concentrated form (undiluted). It actually lasted a bit longer than Prestone in the freezer, but it's only 500ml and much more expensive to buy.
If you are a dedicated Autoglym fanatic then adding its ultimate screenwash to your car care kit would not be a bad choice in any way. A good all-rounder and readily available at most automotive stores including Halfords where you can click and collect within the hour if you're passing a store.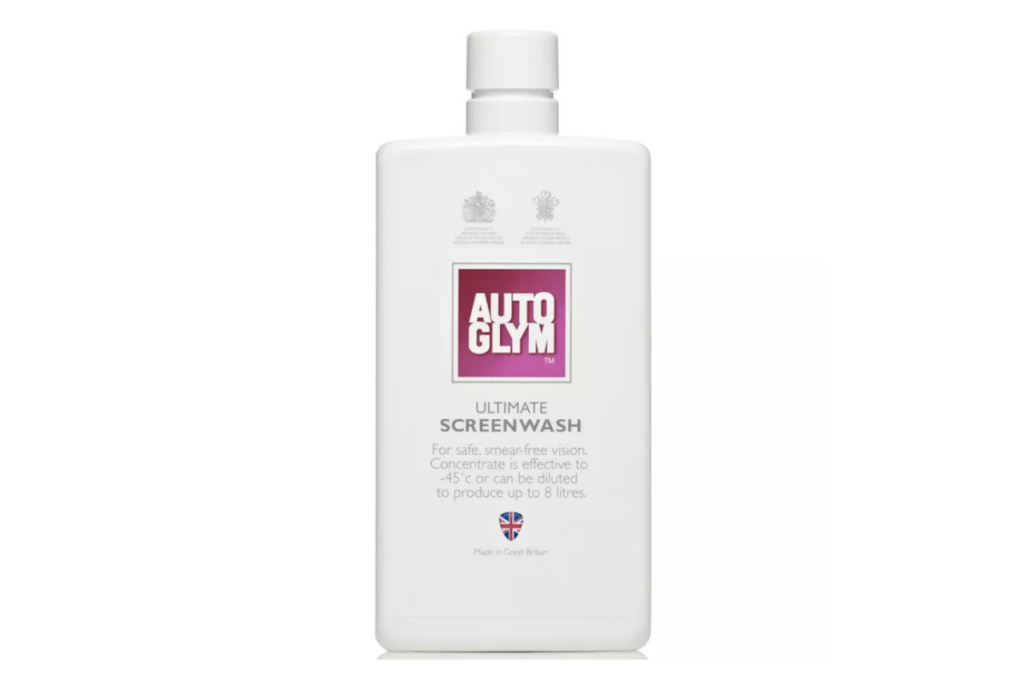 4. Halfords Screen Wash -20°C Ready to Use
Price: Around £7.00
Size: 5 litre
Rating: 4/5
Buy from: Halfords.com
If convenience is a priority and you don't want to mix your own solution, Halfords' Screen Wash is a solid choice. Its ready-to-use formula may have the same concentration year-round, but it's economical in the winter and manages to last a respectable two hours in the freezer. It excels in removing oil stains, making it a practical solution for many car owners.
Halford screenwash is one of the best selling in the UK due to the fact it's a quality mixture and it's readily available all over the country at your local branch. The citrus fragrance is also very pleasant when compared to the some on the market. If you prefer more of a fruity scent then try the -10°C Berry scented version instead which is still pretty good and won't freeze in UK winters.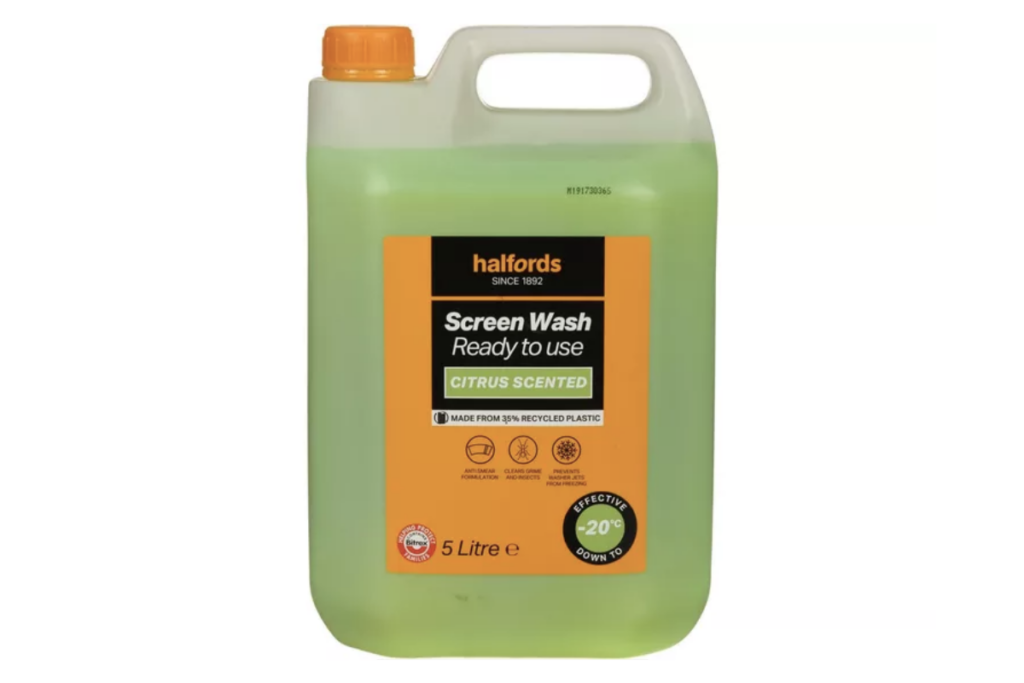 5. Demon Shot Screenwash Booster
Price: Around £5.00
Size: 500ml
Rating: 3.5/5
Best price from: Amazon.co.uk
Demon Shot is an intriguing option that can be added to existing screen wash if desired. While it lasted just over two hours in the freezer, it performed well in removing oil. However, it was slightly behind in the single-pass bug test and required a few more squirts than the others to gain similar results.
Demon products in general are pretty good for the money so it's definitely worth giving this a try and seeing what you think. For us, there are better options available and again, it's only 500ml which doesn't last long if you want to use it neat in winter. The claims of resistance down to -65°C are a bit far-fetched too as it does start to freeze in the freezer eventually.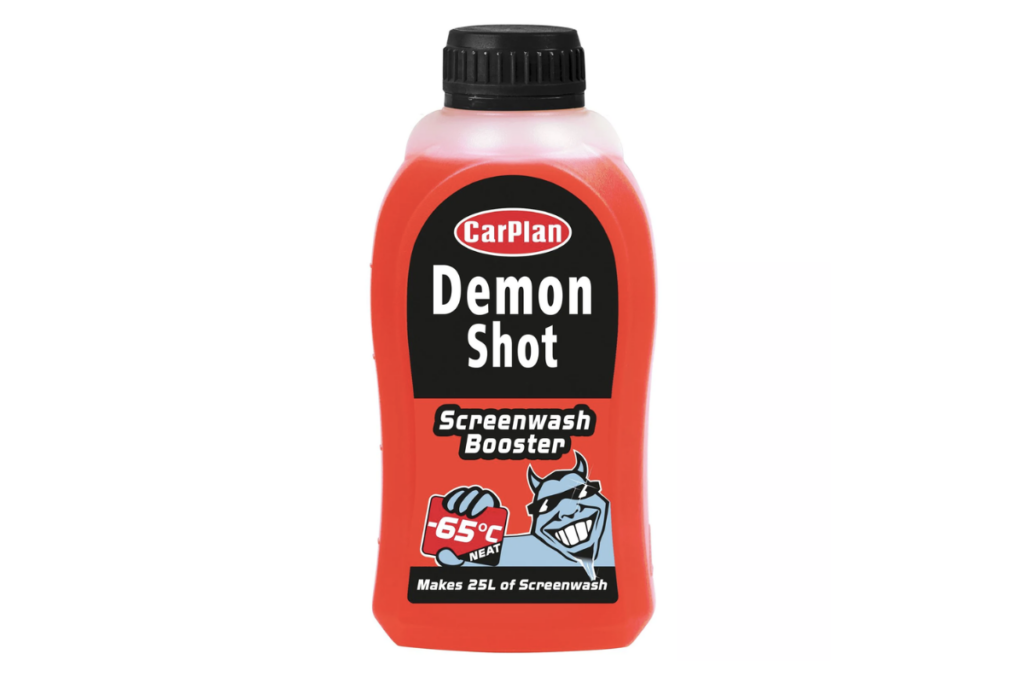 6. Holts Concentrated Screen Wash
Price: Around £7.50
Size: 5 litre
Rating: 3.5/5
Best price from: Amazon.co.uk
Holts Concentrate Screen Wash, a familiar UK motoring brand, offers reasonably competitive pricing and claims to withstand temperatures down to -5°C when used neat. It maintained freezing resistance for 90 minutes, and its price considering summer use when diluted is very appealing and lasts a long time. One 5L bottle will last a full summer when diluted 1 to 9.
While it had some difficulty with single-swept areas, it fared well where both wipers passed. If you are looking for a solution that's tough on bugs then this isn't it. We found it smears bugs across the screen more so than some of the others leaving that annoying curve of gunk (you know the one). It does clear to an extent if you stick at it but you end up using a lot of liquid.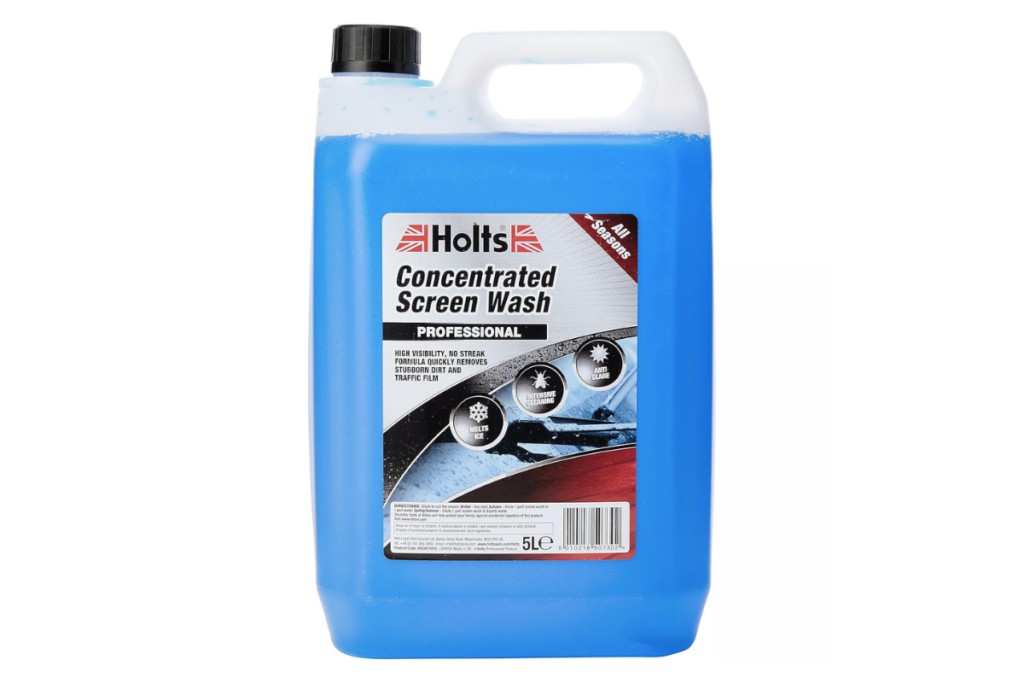 7. Rain-X Windscreen Washer Additive
Price: Around £9.50
Size: 1 litre
Rating: 3/5
Best price from: Halfords.com
Rain-X Windscreen Washer Additive comes in a 1 litre bottle and is one of the more expensive options. However, it justified its cost by lasting two hours in the freezer and it also provides a unique windscreen treatment unlike any of the others.
Rain-X is known for its rain-repellent formula which coats windscreens in a special solution that beads water like no other. We found it doesn't work as well as Prestone when used on an already dirty windscreen, but when you use this on a freshly treated windscreen it repels dirt and grime like no other. Consider this a great option if preventative measures are top of your list.
8. Hexeal All Season Screen Wash
Price: Around £6.50
Size: 5L
Rating: 3/5
Best price from: Amazon.co.uk
Hexeal All Season Concentrated Screenwash isn't as well known as the other names on the list but its value for money and decent performance all around make it a good choice nonetheless. This mix has similar characteristics to the CarPlan Four Seasons screenwash but it's not priced as well. It has respectable freezing resistance at around -5°C before it starts to freeze which takes around 90 minutes.
Oily deposits and bug splats take a bit of shifting but it gets there after a few sprays and wipes. It's not a bad all-rounder at all and should you spot a deal for some then it's worth stocking up on. Amazon regularly has listings for 10, 15 & 25L options which are good value. The 25L option is often sub £20.00, delivered if you have the storage space.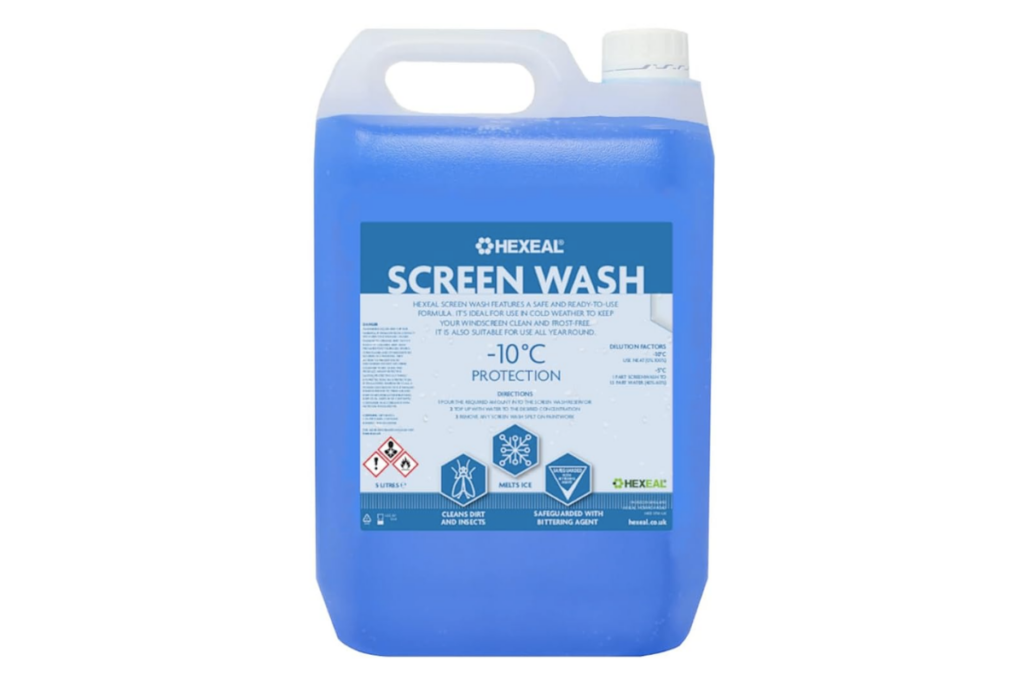 Also Tested
In addition to the top performers, we also tested the following screen washes:
Prestone Ultra Performance Summer Screen Wash
Halfords Screen Wash -10C Concentrate
Glimmermann Extreme Winter Washer Fluid
AA Winter Screenwash
AA Car Essentials Summer Screen Wash
Selecting the right screen wash for your car is crucial to ensure visibility in all conditions. Our comprehensive testing and reviews will guide you in making an informed decision, giving you confidence in your car care product choice for 2023 and heading into 2024.
One To Avoid
You may have seen listings for screenwash tablets in packs at a very appealing price? While they are an improvement over using just water, we've not come across any that do as good a job as pre-mixed solutions or concentrate.

During colder periods over winter, they tend to freeze much quicker than dedicated mixes causing the washer bottle fuse to blow and leave you attempting to melt your washer bottle with hot water. However, this is obviously subjective and we can only provide feedback on products we've tested based on our own opinions.
If you've found a tablet that works well or you'd like us to test another pre-mixed windscreen wash, feel free to drop us a message here!