The Value of Paddington Bear 50p Coins In 2024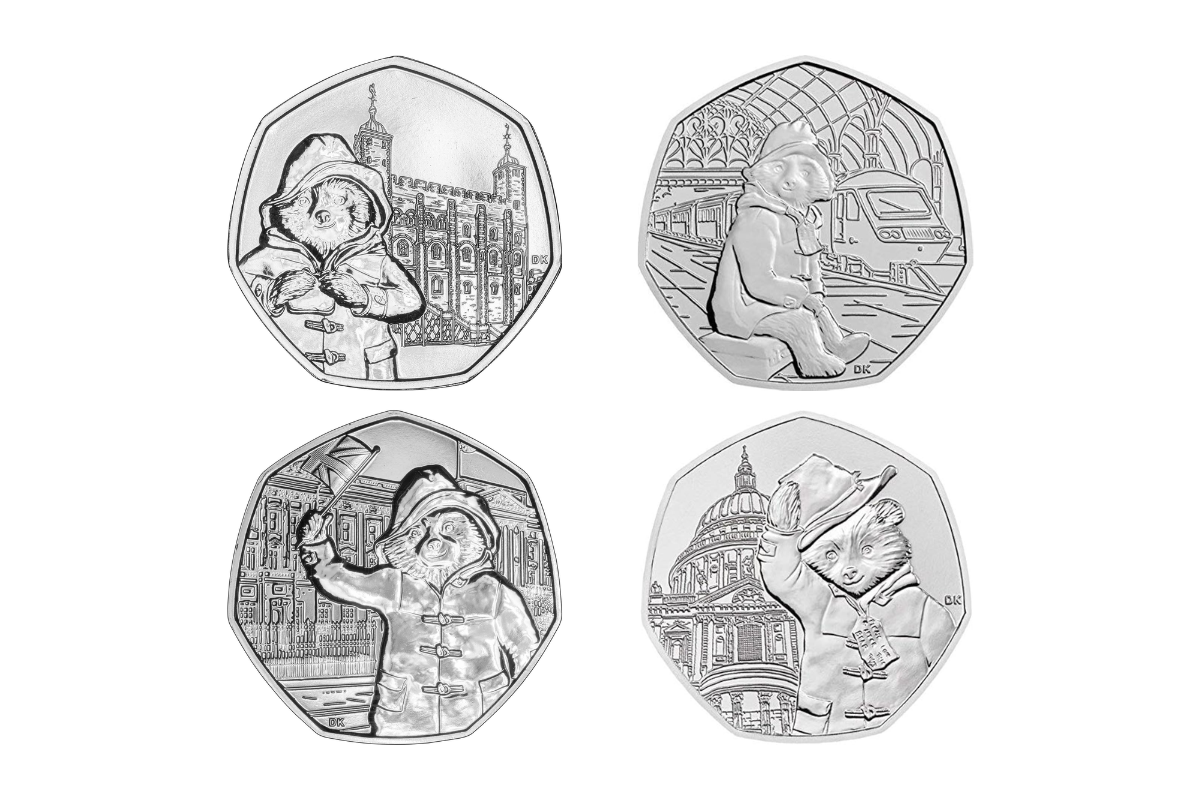 Collecting 50p coins has become a popular trend, with enthusiasts seeking out unique and valuable designs. Among these, the Paddington Bear 50p coin collection has gained significant attention. But can these coins truly command the high prices some headlines suggest?
Paddington Bear 50p Coins: A Treasured Collection
The thrill of discovering an eye-catching 50p coin design can bring joy to many. Not only do these coins provide a delightful change of pace, but they can also hold surprising value on occasion. The Paddington Bear 50p collection has become a beloved choice for collectors, capturing hearts like the beloved bear himself.
But can these coins genuinely fetch £1,500, as some reports claim? In this short yet informative article, we explore the designs and values of these coins, catering to both fans of the iconic bear and dedicated coin collectors. But also provide some insight if you're here because you found one in your spare change!
An Overview of Paddington Bear 50p Coins
Encountering a Paddington Bear coin is sure to bring a smile to your face. This iconic bear, originally crafted by author Michael Bond in 1958, continues to captivate audiences with its timeless charm.
In celebration of the character's 50th birthday, The Royal Mint collaborated with the Paddington Bear estate to create a series of commemorative coins. In 2018, two collections were released, each with a circulation of 5,901,000 coins. One features Paddington standing outside Buckingham Palace, proudly waving a Union Flag, while the other portrays Paddington seated at Paddington Station.
A year later, two more coins joined the collection, with a larger circulation of 9,001,000 each. One showcases Paddington outside St Paul's Cathedral, and the other places him outside the Tower of London, savouring his famous marmalade sandwich.
Assessing the Value
You might have seen headlines proclaiming "Man Sells Paddington Bear 50p for £1,500" on various news sites. However, it's essential to scrutinize the veracity of these claims. While someone may have listed the coin at an extortionate price and even secured a bid, it doesn't guarantee the completion of the sale.
If you check out eBay, there are actually quite a lot of listings for these coins (including some complete 4-piece sets). However, you'll also find some of the listings for these coins are upwards of £3,000! We even spotted one for £5,000! Madness. Are they selling at these prices? I very much doubt it as you can buy individual coins for a few pounds each or around £15.00 for a complete set even though they aren't valued at these figures.
Paddington at St. Paul's Cathedral 50p:
The Paddington St. Paul's 50p Coin (2019) has an estimated circulated value of 50p. This coin depicts Paddington Bear in front of St Paul's Cathedral. Coins with marks and scuffs typically retain their face value, and you're unlikely to receive significantly more unless you possess one of the rarer 50p coins that are immaculately preserved.
Mintage: 9,001,000 (how many were produced)
Year: 2019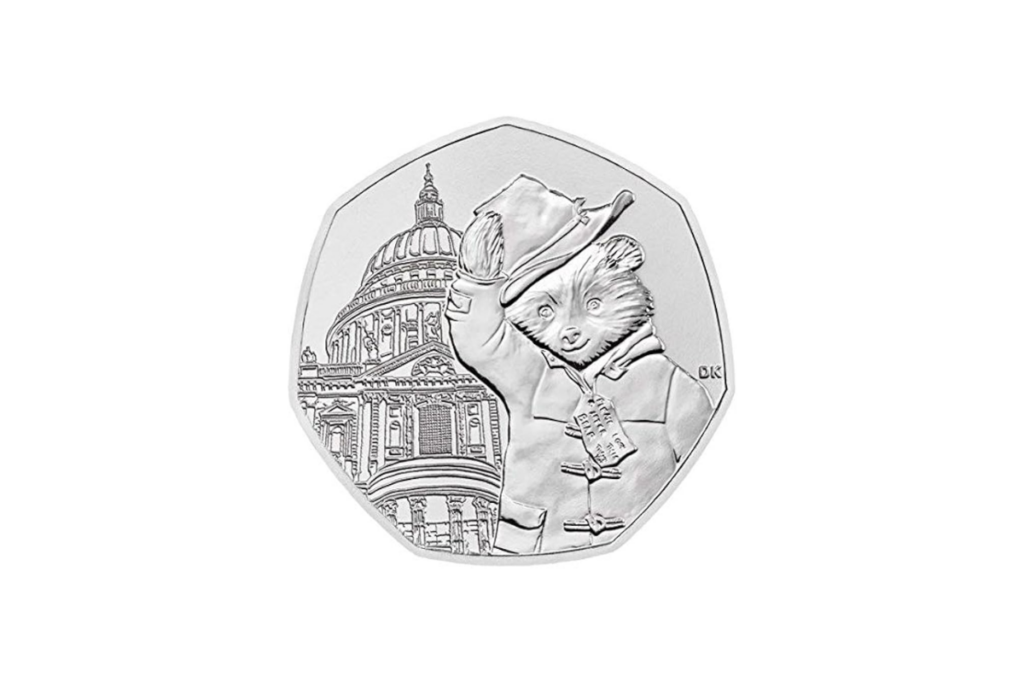 Paddington at The Tower 50p:
The Tower of London Paddington 50p Coin (2019) has an estimated circulated value of £1.00 although it's not one of the rarest coins due to the production numbers. In 2019, the Paddington at The Tower and Paddington at St Paul's 50p were considered among the rarest 50p denominations released into circulation at the time. Since then, the other 2018 coins with lower mintages tend to hold more significant value now.
Mintage: 9,001,000 (how many were produced)
Year: 2019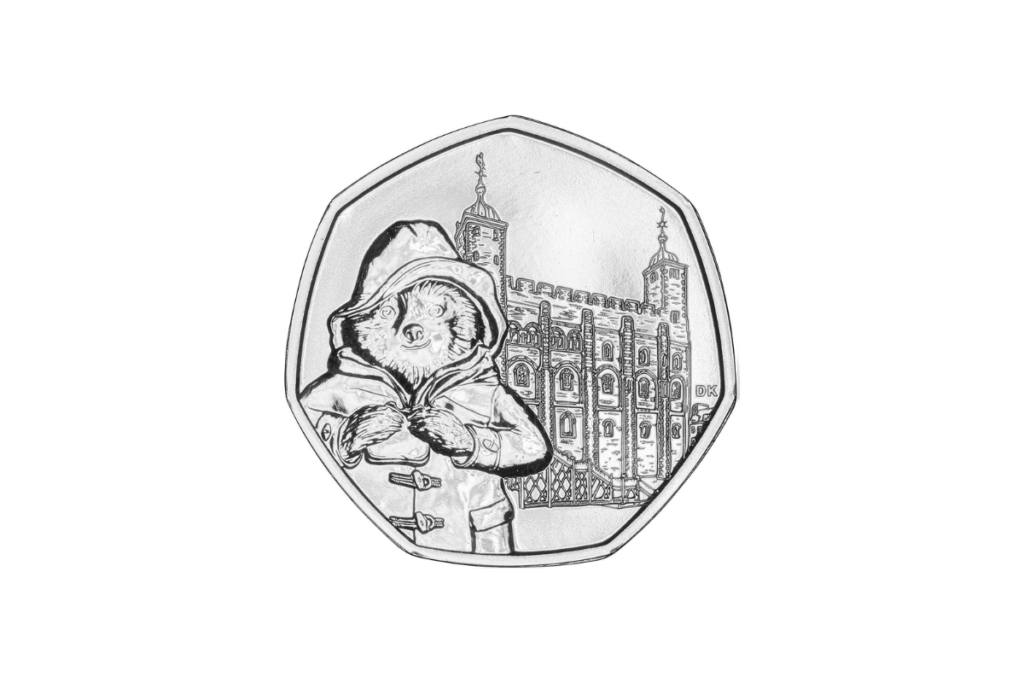 Paddington at the Palace 50p:
The Buckingham Palace Paddington 50p coin (2018) also has an estimated circulated value of £1.00 but they often fetch around £3.00. This Palace Paddington coin is the second rarest in the collection and commands a slightly higher value than the others. You will often see this particular coin listed for around £10.00 although it's not actually worth £10.00 right now.
Mintage: 5,901,000 (how many were produced)
Year: 2018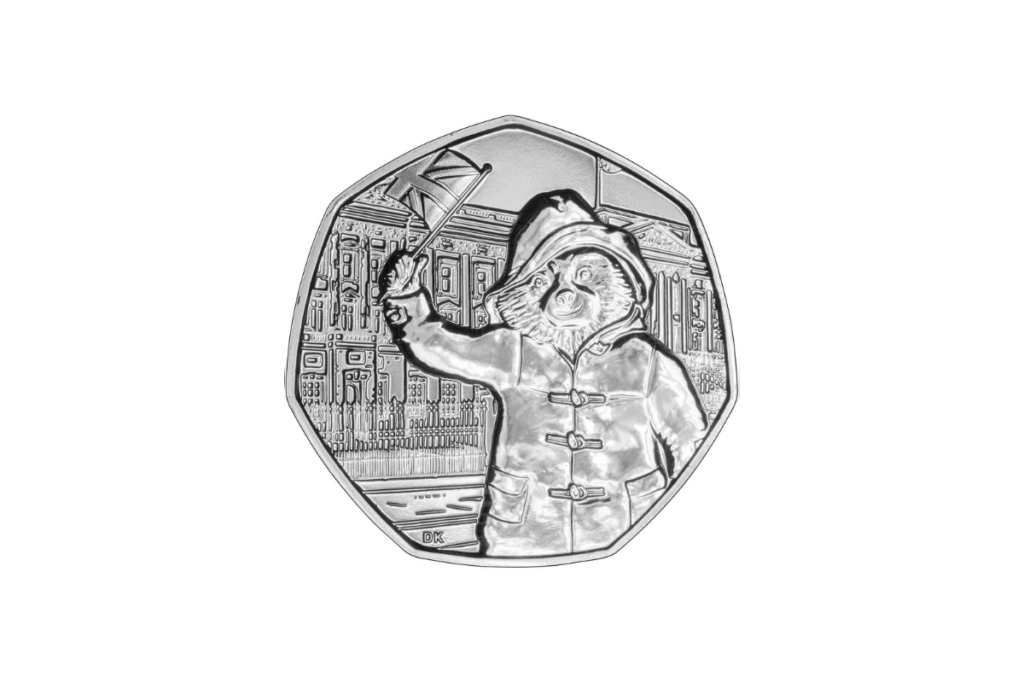 (rarest) Paddington at the Station 50p:
The Paddington Station Paddington 50p Coin (2018) holds an estimated circulated value of £1.00 – £3.00. The most sought-after coin due to having the lowest production numbers. Mintage (production numbers) were just over 5million.
It's worth taking a close look at your collection to see if this rarer coin is hiding within. While Brilliant Uncirculated versions of these coins can be purchased, they still don't command very high prices but they will be listed at a higher price from sellers on eBay and other leading marketplaces. Expect to see listings for this coin at around £15-£20 mark (although they're not actually worth it).
Mintage: 5,001,000 (how many were produced)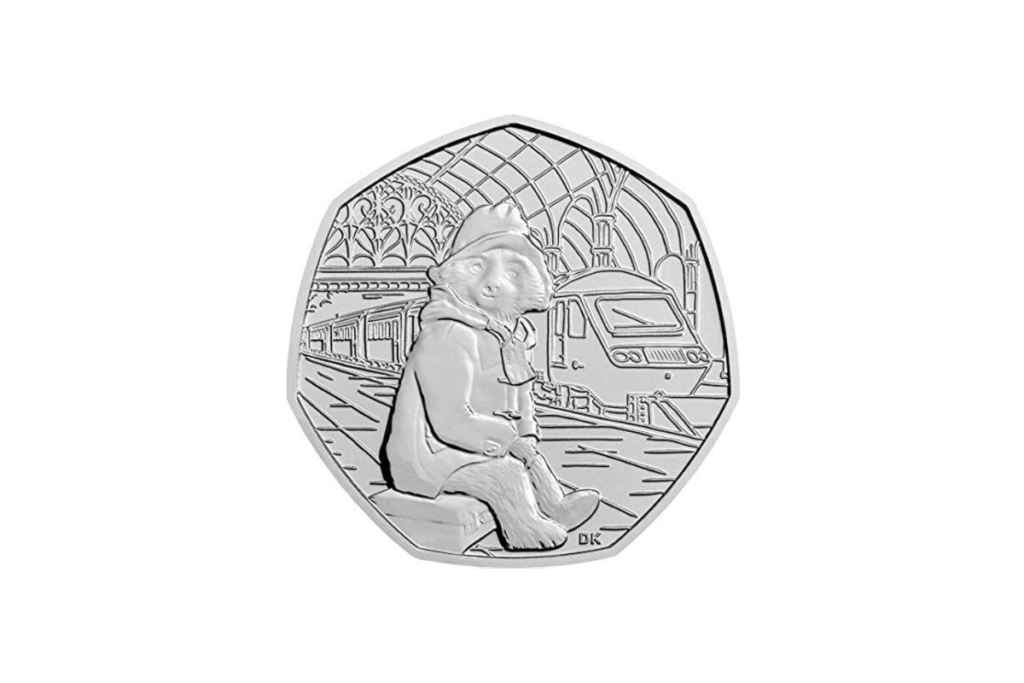 Coin Specifications
Year of Design: 2018 & 2019
Designer: David Knapton
Size: 27.5 millimetres in diameter
Weight: 8 grams
Material: Cupro-nickel
The Paddington Bear collection might not consist of exceptionally rare coins, making them less appealing to avid coin collectors. Nevertheless, for young fans of the classic Paddington Bear stories, owning one of these coins is a cherished treasure.
Will Paddington 50p Coins Increase In Value?
It's difficult to predict the future of what something will be worth. However, if the number of Paddington 50p Coins drops significantly after 2024 and you're in possession of one then the likeliness of it increasing in value is likely.

Out of the 4 coins produced, the ones that are likely to increase in value are the 'Paddington at The Palace' or ' Paddington at The Station' 50p Coins. It's unlikely to make you rich, but it might be worth trying to get your hands on one now to keep hold of for the next 20 years or so as you never know!
In Conclusion
While Paddington Bear 50p coins boast popular designs, their relatively high mintage numbers mean they don't command significant market prices. However, if you happen to possess a Brilliant Uncirculated coin, which is less commonly found in everyday change, it may hold a bit more value.

If you have a 'Paddington at The Station' 50p Coin then this could be the one to keep hold of and hope it might someday be worth a small fortune as this is the one they made less of. Time will tell!