How Does Hair Powder Compare To Traditional Gels and Waxes?
Hair Styling Products Over The Years
Hair styling products date back to the Egyptians when they would mix various oils and animal fat together to prevent their hair from going dry in the hot climate.
Fast forward to the early 1920s, the first true hair products were created and by the 1940s, the mass production of hair styling products was truly here to stay.
Most of us are familiar with the brand Brylcreem which dates back to 1928 in Birmingham, UK. The brand name was created by County Chemicals which launched an emulsion of water and mineral oil stabilised with beeswax to provide volume and texture for various types of hair.
The product stays true to its origin which hasn't changed much in nearly a century. The rival competition was Murray's Pomade and Vitalis Hair Tonic which had their own unique formula to style your hair. Murray's was a heavy oil-based solution often described as Vaseline which was extremely difficult to get out of your hair.
Vitalis on the other hand was a greaseless alternative that would leave your hair looking shiny and healthy. Albeit, not very good at maintaining a firm hold and would need to be reapplied often.
Various gels, creams, waxes and mouses came to market and to this day there is no shortage of options to choose from when trying to achieve your style. But what about the latest hair powders to hit the market? How do they stack up against other traditional products and are they here to stay?
Is Hair Powder Good For Styling?
Hair powder or silica silylate is a modern alternative to gel and wax that provides a natural, matte finish with a medium hold. It gives you a textured, messy or slick look that is perfect for an everyday style.
The hair powder is applied with your fingers and then brushed or combed to the desired finish. The powder sets in place almost instantly and will last all day without any flaking or residue.
It's good for styling because it's mess-free, it doesn't leave behind much residue, and it's easy to wash out at the end of the day compared to waxes! It isn't as smooth to comb through as wet gels, but you're dealing with powder so it is to be expected.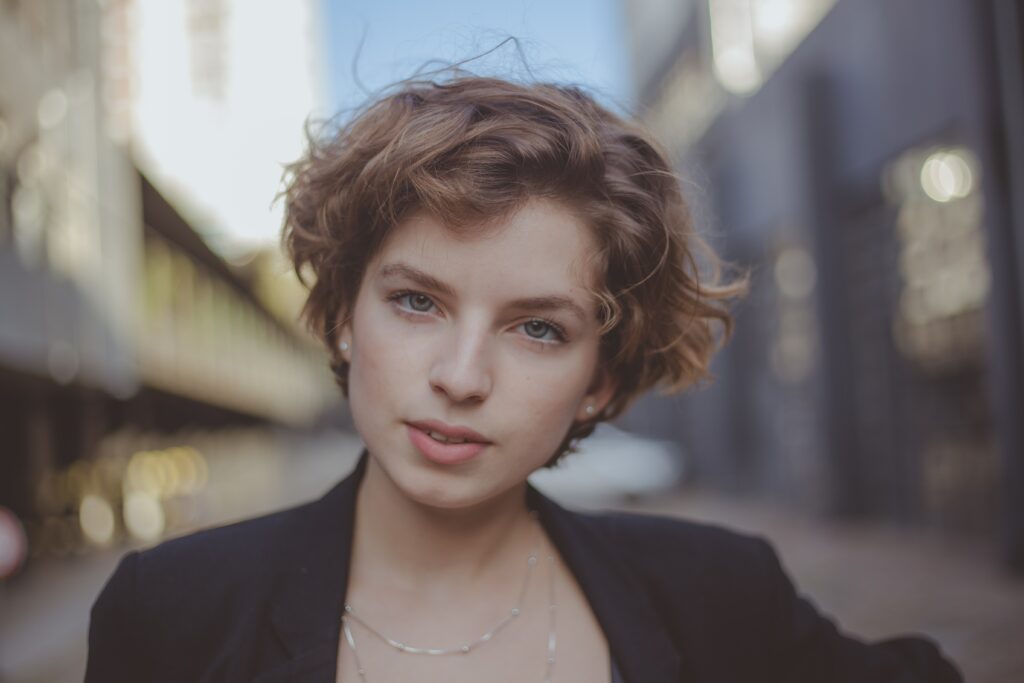 What Does Powder Do For Men's Hair?
Hair powder not only delivers a dry, firm-looking hold, but it also reduces frizz and gives hair an even gloss and natural look as if you didn't have anything in your hair.
Although powder used as a hair product has been around for some time, only in recent years has the trend and refined ingredients taken off with modern styles. The 'wet look' has somewhat fizzled out to an extent and stylists are often looking to achieve a matte finish with maximum control that's lightweight.
For fine hair, leading men's hair powder help to sustain the laws of physics in terms of gravity doing its thing and preventing flatness while you go about your day.
Something often experienced by men who have very fine hair is the inability to hold styles with a certain degree of height. Powders can certainly assist in helping achieve a more sustainable style for longer without the stiff, rock-hard wet look!
People with regular hair types will often experience instant hold when running through the hair where you can achieve the final texture in a short space of time. Men and women with curly hair can often achieve great results, but it does take a little longer to finalise the hold.
Black men and women who have tough wavey hair may find powders aren't as workable and suited to their hair type but it's certainly worth trying to see for yourself. After all, you know your style better than anyone and there are plenty of choices that are good value for money with regular promotions and suitable payment methods.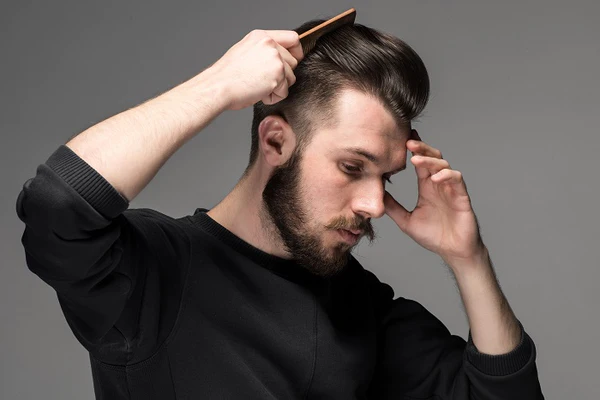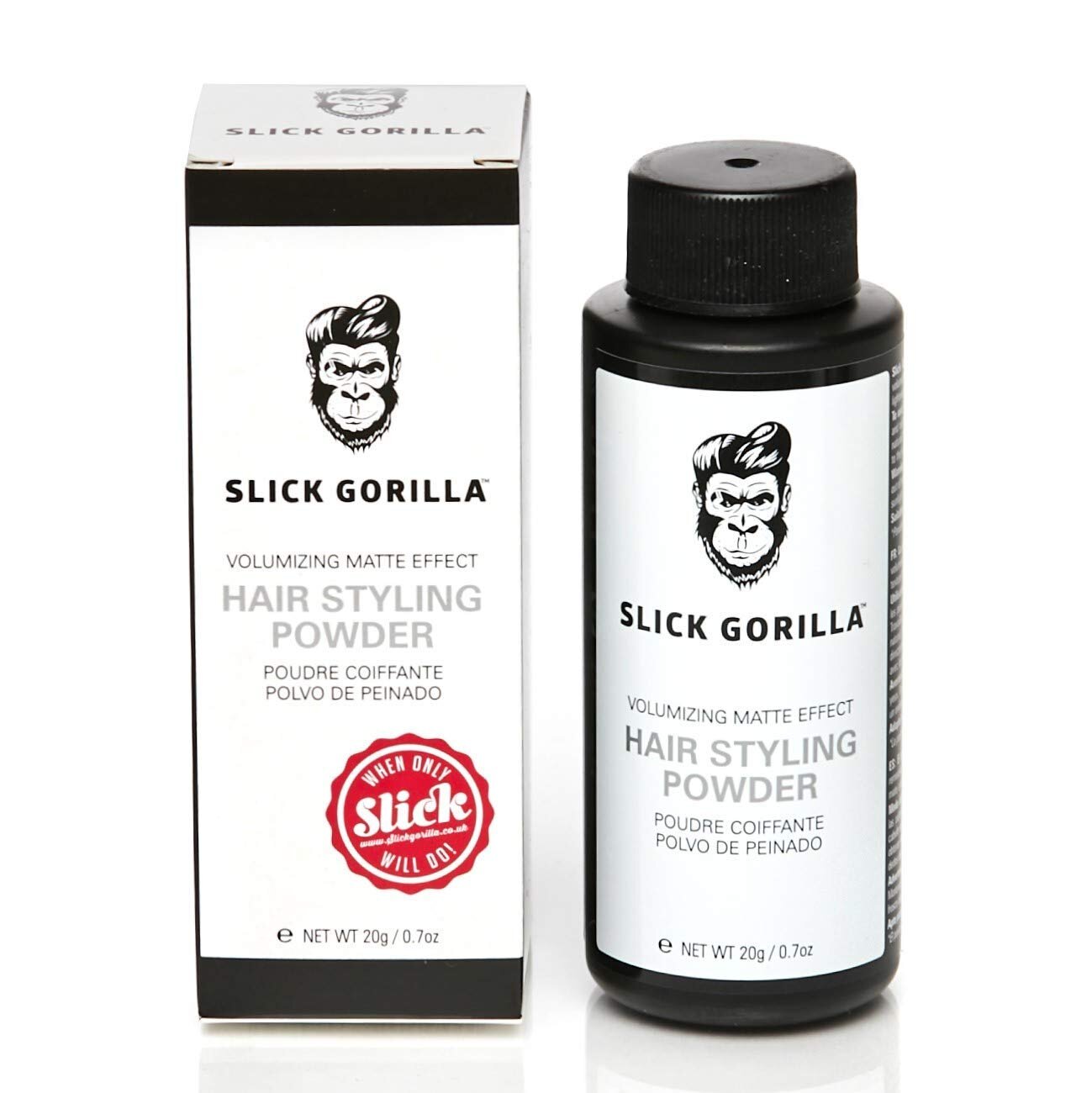 Slick Gorilla Hair Styling Powder
The Number 1 styling powder in the UK
Does Hair Powder Damage Hair?
Hair powder has no effect on your hair! You should wash it out of your hair each day but the powder isn't irritating at all to scalps. The benefit of hair powder may exceed just style alone.
Some frequent users across the world often report their hair felt softer and shinier than normal, but we fail to see any noticeable difference when trialling leading products.
A few advisories we found with some products:
Take your time combing after applying the product with your fingers. You will find it snags quite easily until you get the desired resistance and becomes smoother and easier to style.
Apply a small amount and work your way up to achieve the desired look. You can get carried away. Less is more as they say!
How Long Does Hair Powder Last?
Hair styling powders are very durable and even more so than gels and waxes. Seriously, unless you thoroughly clean your hair in the bath or shower, this stuff isn't coming out any time soon. It will certainly serve you well for a full day and evening if desired as you can easily restyle it by running your fingers through your hair to maintain volume.
It's very resistant to water on its own and even when dried out you can still feel the product texture down to the root. You'd imagine a fine powder that looks like talcum powder to just wash away, yet it doesn't.
When washing the product out of your hair, you may experience the need to shampoo a couple of times to erase the feel completely. This is something we found with the majority of products available on the market today.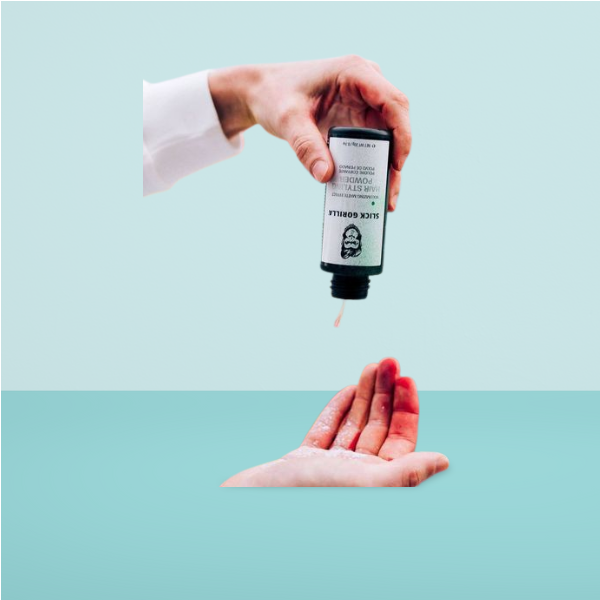 How Do You Style Your Hair With Styling Powder?
It's relatively straightforward and near enough identical to applying traditional hair gels, waxes and creams. Just follow these steps:
Hair must be dry
Apply powder to your hand (make sure you keep your fingers together otherwise you'll lose most of it on the floor!)
Rub your hands together and begin working it through your hair with your fingertips
Apply it directly to your hair where you desire a firmer hold
Work through with a comb or brush for the final hold
Can I Use Hair Powder Every Day?
It depends on your personal preference of how often you style your hair. Although these hair powders won't damage your hair or scalp, it's best practice to free up a couple of days where you allow the natural oils in your hair to replenish.
If you continuously apply a hefty amount every day then you're soon going to get through a tub of powder more often than others and therefore the pounds soon add up.
Which Powder Is Best For Hair Styling?
Slick Gorilla has become one of the favourites in the UK due to its lightweight, competitive price and good reviews by stylists and end users.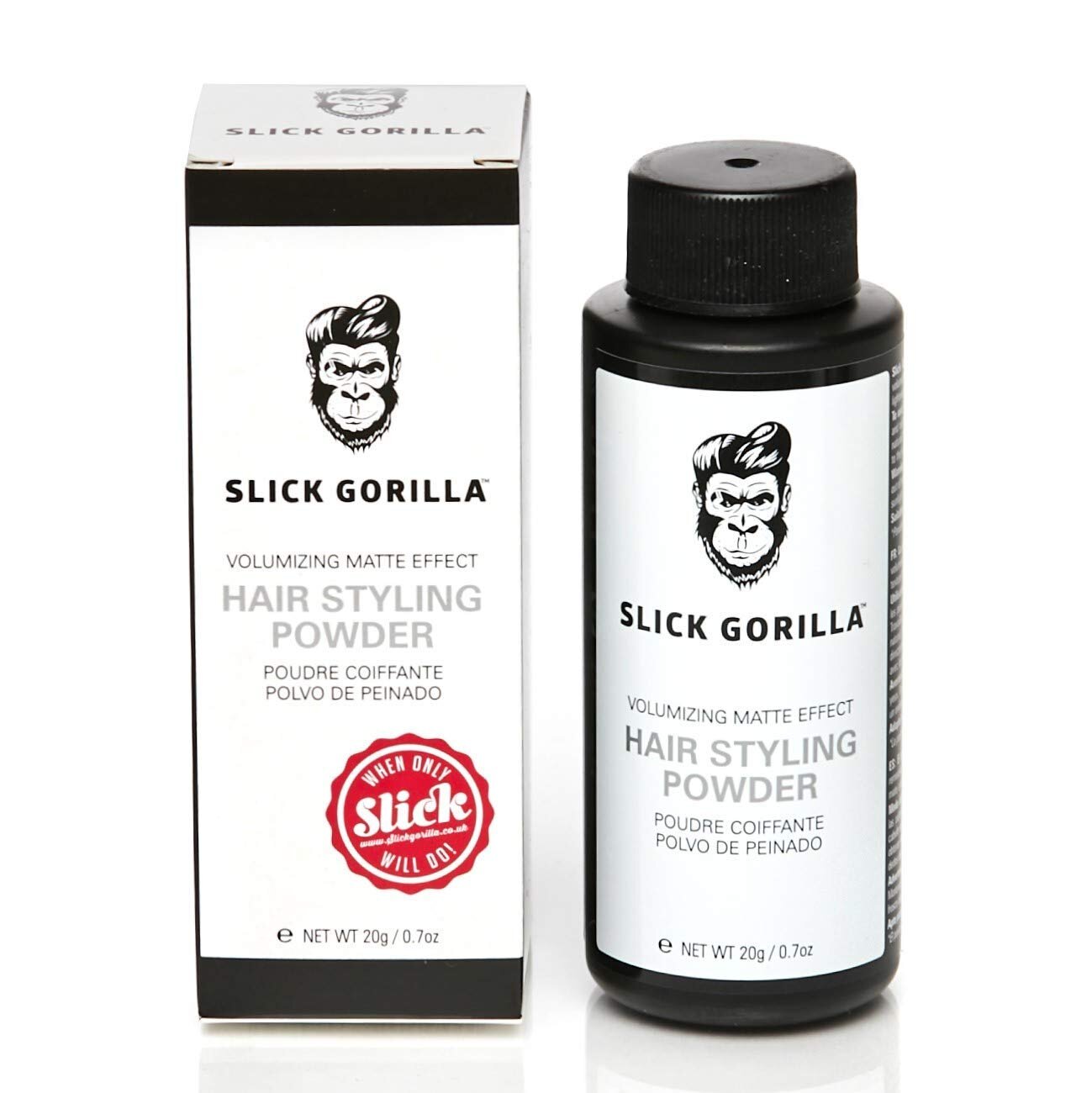 Slick Gorilla Hair Styling Powder
The Number 1 styling powder in the UK
Is Hair Powder Better Than Gel And Wax?
Hair powder should sit alongside your regular styling products such as putty, hair clay, gels and waxes as an alternative for days when you want a dry, texture-free finish with excellent volume that will sustain a typical day in modern men and women.
Over time you can then make the decision whether hair powder is suitable for your hair type and replace your old products completely if desired.
Whereas traditional oil-based gels and waxes can leave your hair feeling rock-hard, oily and greasy, this certainly doesn't. If this is the most important factor when choosing a hair styling product then, yes, powders are better than most gels and waxes for your type of hair.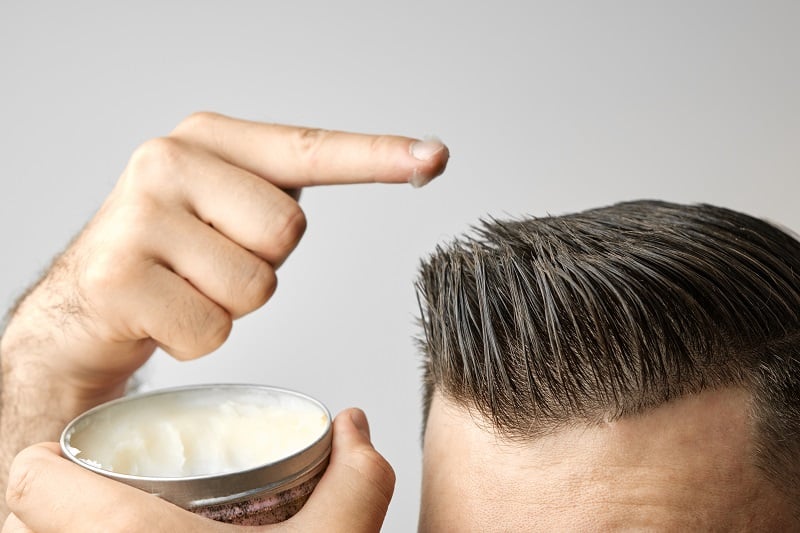 What Is Hair Powder Made Of?
The ingredients in most leading powders are:
Glycerin
Silica Dimethicone Silylate
Dimethicone/Vinyl
Dimethicone Crosspolymer
Aqua
VP/VA Copolymer
Sodium Benzoate
Silica
Combined they produce a white-textured powder that has a slight resistance and almost claggy feel to the compound, yet isn't sticky. It dispenses just like talcum powder so make sure you grab the correct tub!
Is Hair Powder Suitable For Children?
Although leading products don't advise a minimum age, healthcare specialists advise not to use products on children under the age of 10 as their natural oils and scalp are still developing.
If you would like to learn more about children's grooming you should consult your doctor and speak to a professional. Alternatively, you can set up a consultation with Lloyds Pharmacy – Online Doctor below.
How Long Does A Tub Last?
A little goes a long way but our long-term test of Slick Gorilla when used 3 times (on average) a week resulted in near enough 6 months per tub. Tests were carried out on shorter hairstyles.
This will vary on your own use, but considering the price is under £15.00 it's pretty good value for money.
Conclusion
Adding hair powder to your grooming shopping list is certainly something we recommend for men and women looking to achieve a firm, grease-free hold with shorter hairstyles.
A quick, lightweight alternative to gels and waxes is certainly here to stay and we can see why its appeal has taken off in the past few years. Adding a product such as Slick Gorilla Hair Styling Powder to your grooming kit is relatively inexpensive and worth trying out yourself.
If you'd like to learn for about our health and beauty tips you may find these articles of interest: