Best Masonry Paint: Top Picks for Brick, Render and More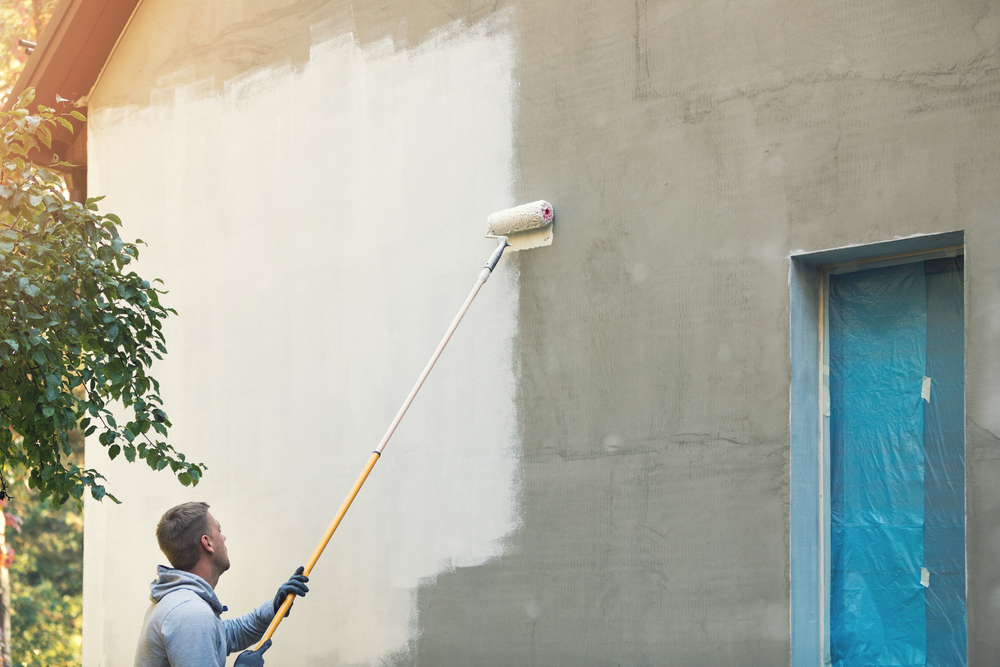 Choosing the best masonry paint can add some serious kerb appeal to passers-by. This guide also talks about how your exterior can benefit from a refresh and give it years of durability too. Good quality Masonry Paint is waterproof, mould resistant, completely breathable, highly durable and crackproof on most well-prepared exterior applications.
Several brands in this feature contain specific chemicals that are effective to repel mould and algae and help wash the paint easily. We also cover some price guidelines and textured masonry paint offers. Let's take a look at some FAQs the public generally asks when finding the right exterior masonry paint.
Which type of paint is best for exterior walls?
Acrylic water-based masonry paint is the best choice for exterior walls and is renowned for being the latest high-quality paint. It helps repel moisture but also allows walls holding moisture to evaporate over time.
The best quality exterior masonry paints used by professionals tend to be UV resistant and provide a waterproof coating suitable for building blocks, concrete and garden walls. Cheaper masonry paints may give a short-lived paint job such as older oil based masonry paint which isn't mould resistant and may result in loose paint, earlier than expected.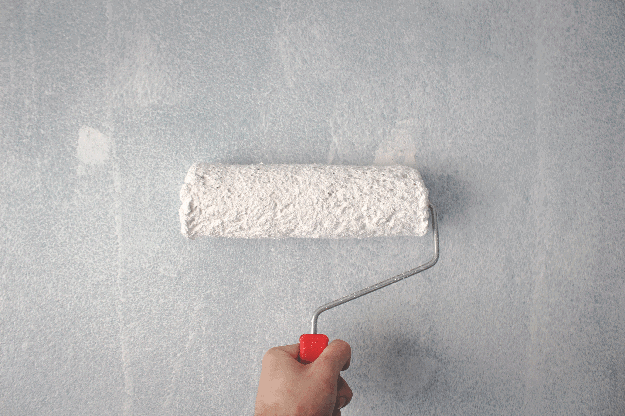 Can I paint over peeling exterior paint?
If your exterior walls have been painted previously it is important to prepare them as best you can to make sure the new coat has the best chance of longevity. Firstly, you should jet wash the exterior which will help lift the flaking paint during the process. Also, you should use a wire brush for any remaining flaky paint.
It is advisable to do this a few days before you plan to paint the walls to allow evaporation and increase the chances of achieving a smooth finish to the paint and achieving optimum weather protection. If you have some noticeable cracks then these should be patched with an exterior filler or re-pointed accordingly.
Should I use a stabilising solution or primer?
Some choose to use a stabilising solution regardless of the surface. We recommend always using a primer (stabilising solution) for any chalky or porous surface. If you are working with a clean, well-maintained surface then it is not necessary. You can always test a small area with the first coat of solution to see if it gives you the solid, textured finish you are looking to paint on.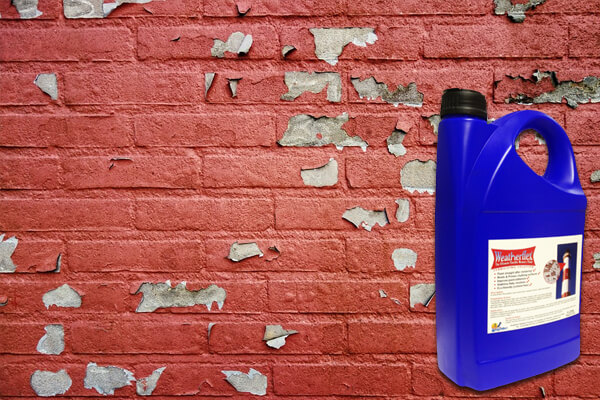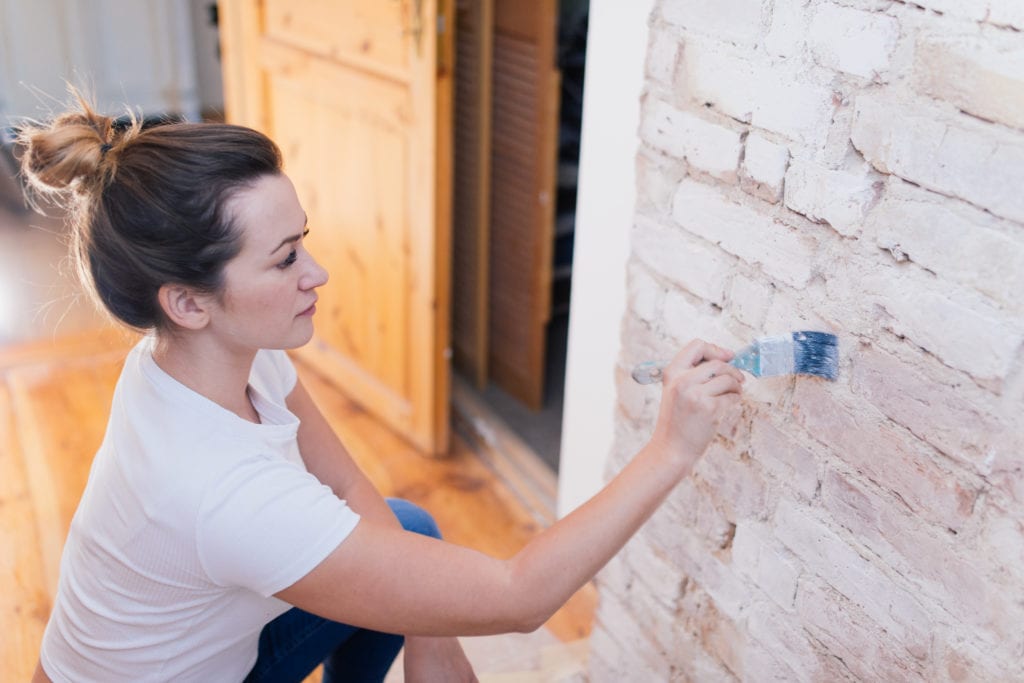 What is the longest lasting exterior paint?
Acrylic paints are the best for long-lasting results. Suitable for excellent protection against UV and rain on different exterior surfaces. Older exterior paints used to be enamel which is oil-based and tend to go yellow over time.
Technology has evolved and modern-day ingredients are much more robust and sometimes come with a lifetime guarantee. Oil based masonry paints have been replaced by Acrylic in most cases so the chances of buying exterior masonry paint that is oil based are slim.
Leyland Granocryl Smooth Masonry Paint
Granocryl Masonry Paint by Leyland, provides excellent protection for up to 10 years. The product provides a high-quality weather-resistant coating that is ideal for exterior applications, including stone, brick, plaster, paving, concrete, and other similar materials. This coating has Anti-Mould components and provides good elasticity.
Leyland masonry paint comes in 13 colour options with a matt finish. Application advice is 1-2 coats with a touch dry time of 1-2 hours and completely dry in 4-6 hours depending on temperature. This range is good value per litre and prices typically range from £13 – £50 depending on the retailer and size. Leyland Granocryl Smooth Masonry Paint comes in 2.5L, 5L & 10L applications.
Rustins Exterior Quick Dry Masonry Paint
Rustin Exterior Paint is a preferred paint for smaller jobs. Available sizes are 250ml and 500ml which is ideal for smaller jobs such as window frame touch up, door frame areas and similar. Rustins masonry paint is extremely fast drying as it only takes about 30 minutes before being completely dry.
Usually, a single application is sufficient enough for most surfaces but a second coat can be applied after 4 hours. The optimum temperature for application is between 15-20deg if possible and drying times are subjective to weather conditions. It comes in just 4 colour options and prices range between £4.00 and £10.00 per tin depending on your chosen retailer.
Sandtex Ultra Smooth Masonry Paint
Sandtex Ultra Smooth Masonry Paint has been a very popular choice for DIYers and professionals for many years. The brand was founded in the 1950s which makes them industry leaders in masonry paint. They belong to the Crown paint family, an internationally recognized brand in the UK.
Sandtex has been specializing in painting bricks for over 60 years. There are 27 colours in 1l, 2.5l, 5l, 7.5l and 10l applications but are generally sold in 5l and 10l applications which are better value for money.
Their miscroseal technology has proven results to last up to and over 15 years whereas others are limited to 10 years. This range is an excellent choice for multiple applications and is generally seen by many as the best masonry paint.
Prices are generally more inflated for this product but you get what you pay for as they say. RRP's suggest a 5l tin ranges between £20.00 and £28.00 from the likes of Screwfix, B&Q and Wickes for example.
Dulux Weathershield Smooth Masonry Paint
The most popular exterior paint by Dulux is their Weathershield range. Dulux Weathershield masonry paint is an established name here in Britain and is one of the leading choices along with Sandtex. Their ranges are extensive and are suitable for many different applications due to their equally impressive 15-year protection and protective film against mould and algae.
Like many paints in the Dulux Weathershield range, you'll pay an extra fee mainly for the brand name more than anything, but the quality of the product cannot be argued with. Applications come in 250ml, 500ml, 750ml, 1l, 2.5l, 5l, 7.5l and 10l applications which is the widest variety of exterior masonry paint available.
However, most retailers stock 2.5l, 5l and 10l with over 20 colours available. Prices range from as little as £4.00 for the smallest tins but up to £50.00 for the larger 10l. Screwfix, B&Q and Wickes are all in a similar price bracket so it's best to shop around. If you are familiar with Dulux Weathershield already then stick to it as it's a very good product that's proven itself time and time again.
GoodHome Smooth Matt Masonry Paint – B&Q
A cheaper alternative to well-known brands on the market is B&Q's own GoodHome range which is very popular across the UK. It's readily available in local stores and online which makes it a popular choice for DIYers looking to get something which will do a sufficient job and not break the bank.
The 5l tins are currently just £19.00 and claim the same 15-year protection as Dulux and Sandtex. However, with this being a relatively new product to the market we suppose time will tell!
Do you need primer/undercoat?
Depending on the surface you are painting on, we recommend firstly, assessing small cracks and the current state of the wall surface. If you are painting a clean, well-maintained surface then you do not need to apply a primer or stabiliser as it's often called. If you are painting a porous and soft surface it's sensible to treat with a stabiliser first.
Tip: Apply to a less visible area along with the final painted finish to see if it gives you the results you are looking for before committing to full coverage.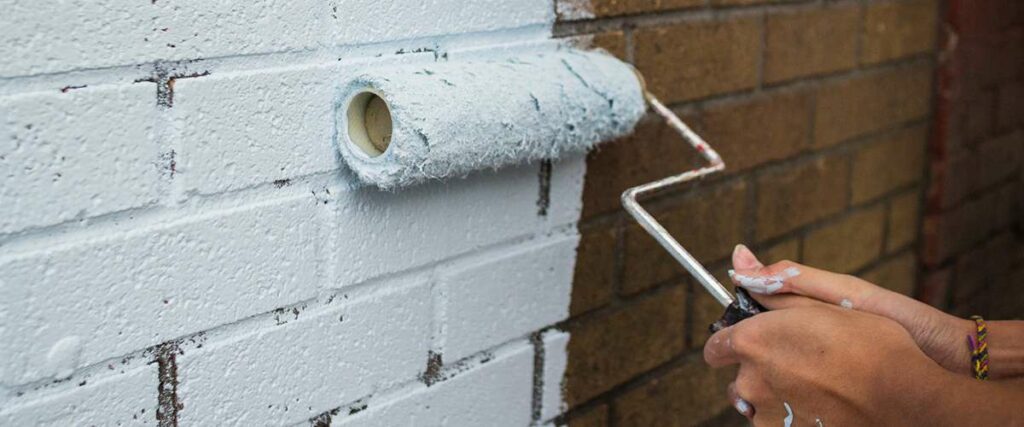 Which is best for Roughcast render?
Most good-quality masonry paint will be up to the job. The main challenge is to choose the right masonry brush and rollers to get into the deeper cavities. Most quality masonry paint on the market will give you a durable finish with good coverage. We recommend using a 6-inch or 9-inch roller with a long pile. The longer pile rollers are quite adaptable for different surfaces.
Best Masonry Paint Overall: Sandtex Masonry Paint
Surveys to more than 2000 professional decorators voted in favour of the Sandtex range being their go-to choice for exterior masonry paint because of the quality and competitive pricing. It is certainly a wise choice when you buy masonry paint.
Best Textured Masonry Paint: Leyland Granocryl Masonry Paint
During the same survey, we asked which was the easiest to apply to textured surfaces. The results favoured Leyland's Granocryl range but Sandtex was a very close second and is proving to be an excellent all-rounder.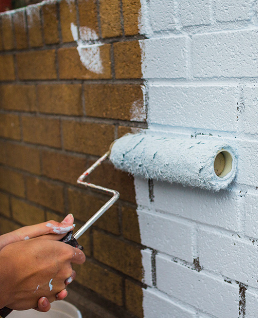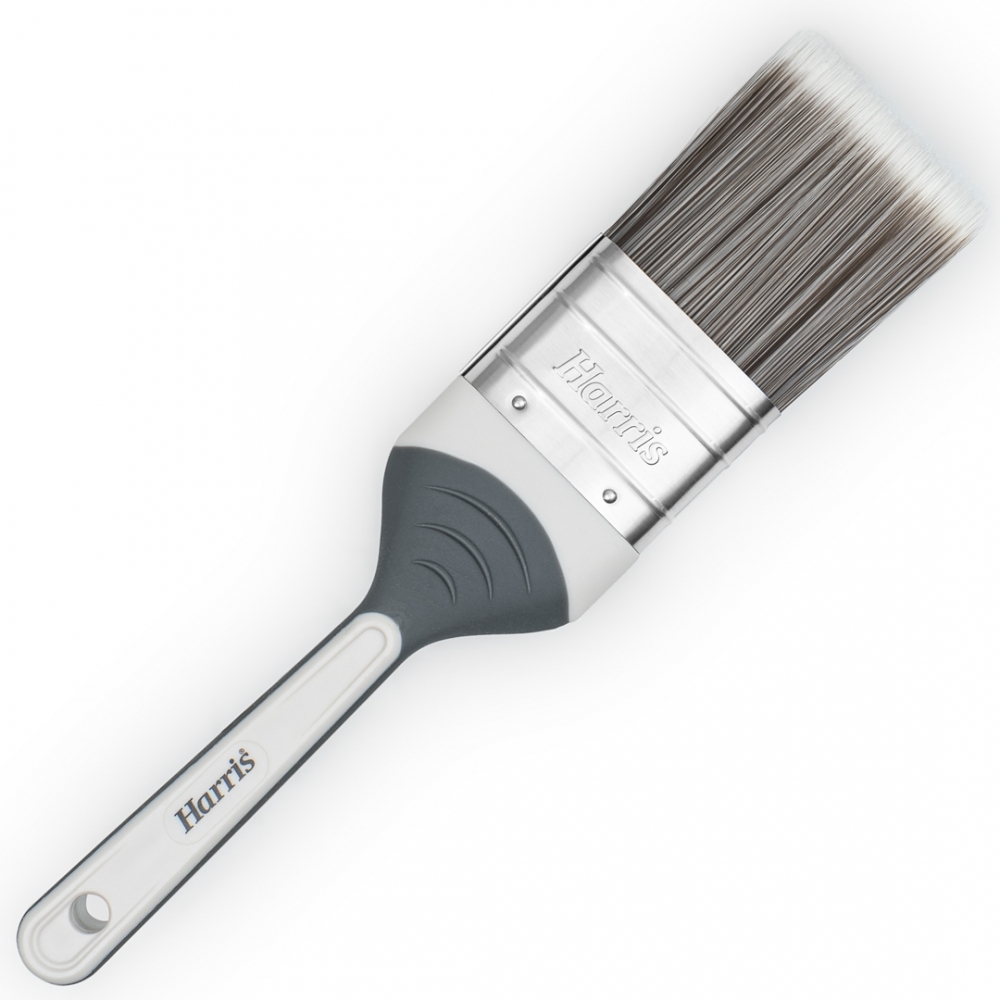 Best Paint Roller for Masonry:
When painting stone the rollers must have an extended pile. It is basically because the fibre has a longer life than other roll types and can cover uneven or porous surfaces with pitted holes compared to sponge and short pile fibres.
Generally, the options from B&Q, Wickes and Screwfix are effective enough for DIYers, but for those who want something more premium then choosing a brand like Harris is the way to go.
Best Masonry Paint Brushes:
Most retailers supply a kit which comes with trays, rollers and brushes so it's best to check if any are suitable, firstly. If you are looking to purchase separately then you must always look for good quality synthetic fibre bristles.
We've all been there before, buying cheap brushes and continuously picking bristles out of the paint on the wall. Harris does a few options which are proven and relatively cheap.
It's advisable to choose flexible beavertail handles when covering a large area as they are more forgiving on your hands. They can be purchased in 5 packs or individually.
How to apply Masonry Paint?
Everyone is looking for an excellent painted outside wall, right? Whether it's a textured masonry paint finish or a smooth masonry paint finish here are a few steps to take to make sure you achieve that professional finish.
Choose the best masonry paint for the job. Sandtex masonry paint is a good choice.
Pick your rollers and brushes. Remember to choose rollers with a long pile.
Make sure you have a few clean roller trays and paint buckets with handles, if not purchase them at the same time. They come in handy when up the ladder in awkward spots.
Jetwash if necessary and wire brush the surface as thoroughly as you can.
Allow to dry for a day or two. On warmer summer days you might be able to reduce this time.
Mask any areas you wish to avoid paint transfer on.
Start painting! Start slowly with a single coat to get even coverage. Once touch dry assess whether it needs another coat. See instructions on the tin for application times.
Touch up any areas you may have missed.
Clean your rollers and brushes with warm water before the paint dries.
Admire your efforts.
Top tip: If you are covering a large area it's better to work in a pair for safety reasons.
Other Masonry Paint Brands to Consider
Johnstone's Stormshield and Dulux Armstead Pliolite® Range
Johnstone's Masonry Paint is also a great allrounder and reasonably priced so it's worth look at when choosing what is readily available.
A new innovation in the paint industry is Pliolite® based product lines. This is an Eliokem trademark for acrylate resins. Its solvents are generally stronger than other exterior masonry finishes. This product has been developed specifically for use by professionals using acrylic rubber resin technology.
You can achieve excellent results with one coat which is extremely shower resistant. It's also very good for cement render as it also provides an extra layer of resistance to cracking during hot and cold seasons. Although we haven't used tried it on stone walls, it reportedly gets great feedback within the trade online.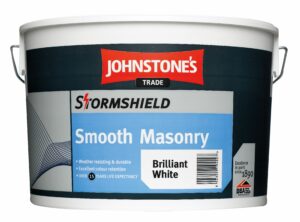 Valspar® 15-year Masonry Paint
Its elasticity is excellent for protection against cracking, flaking and peeling over ten years and is very water repellent. Great coverage coupled with excellent flow and balancing guarantees a perfectly smooth finish for effortless application. Valspar has an online calculator that can be helpful when trying to figure out how many litres of paint is needed.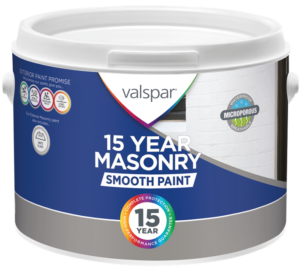 Wickes Textured Masonry Paints
This sculptural masonry paint provides optimum weatherproof performance that's great value for money. This flexible material helps to conceal minor imperfections in an object. This paint is suitable for exterior surfaces such as concrete, roughcast, facing bricks, rendering and pebble-dash that will stand up to most weather conditions.
It's a great alternative to premium brands considered the best masonry paint and we've found it's pretty much touch dry in 30 minutes which is a bonus if you're looking for a quick turnaround. Wickes tends to have an offer on their own branded paint, masonry brush and rollers too so keep an eye out for those deals.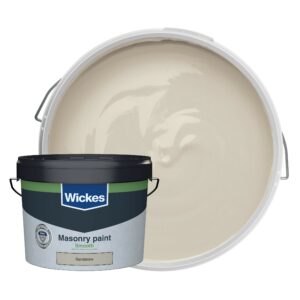 Farrow & Ball Exterior Masonry Paint
Farrow & Ball paint is a popular brand for interior designers due to its extensive range and excellent quality. Their Masonry paint has over 100 colours available and is generally used for bespoke exterior features on exterior walls and concrete.
It offers good coverage and is very popular with many professional decorators although it isn't seen as the best masonry paint. It is generally quite expensive too. However, it ticks the boxes when it comes to breathable paint with good water resistance that's extremely popular within the home improvement sector. The choice of colours is certainly more advanced than most of the others in this article so if colour is your main objective, this may be the one for you.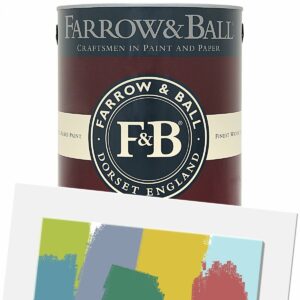 How do I remove Masonry Paint? Is it easy to remove?
In short, not easy at all. Once you commit to painting the exterior wall with Masonry paint it is extremely difficult to get it off. You can, however, apply a paint stripper solution which will help lift the bulk of the finish off but the result will vary and generally look worse.
Some people have often resorted to sandblasting or soda blasting the brickwork which leaves a fresh but porous surface finish. This, therefore, leaves the brickwork open to moisture and needs sealing. Alternatively, on the cheap side, you can have a go at loosening the paint with a stiff brush or wire brush and a jet washer. Results will vary so give a few things a try and see what works best for you.
What is the most common reason for paint failure?
Lack of surface preparation. It's often the cause behind paint failure. If the paint does not adhere properly to surfaces it results in the paint lifting and becoming flaky. This is generally more common with flat surfaces vs textured masonry paint finishes.
Allow time to prepare otherwise prepare for it to fail! It may also be down to the existing paint underneath if you are recoating a surface.
Why does my paint keep cracking?
It can be partially due to the point above but mainly it will be to do with the temperature rising and falling causing expansion in the mortar or hairline cracks widening, therefore, causing the masonry paint to expand and crack also. The surface preparation is also key to making sure you get good adhesion. Make sure you clean a prep as well as you can.
A garden wall is also more likely to crack than the exterior of a building as they are generally free-standing and can expand/contract during seasonal changes in temperature and moisture levels. If you are worried about cracking then choosing Sandex, Dulux Weathershield or some of the others found in this article that should help alleviate cracking and allow some flex and breathability.
Where can I find professionals to do this for me?
We recommend searching for verified tradesmen on sites such as Checkatrade or Rated People.